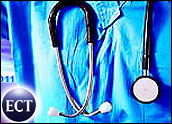 WebMD (Nasdaq: HLTH) rose 67 U.S. cents to$6.50 Friday morning, after the company reported quarterly results thattopped expectations and said that it is on track to reach a profit, before charges, by the end of this year.
Analysts at SG Cowen reportedly upgraded WebMD shares to strong buy from buy after the report.
The online provider of health information and related services said that revenue for the fourth quarter ended December 30th rose to$199 million from $33.2 million a year earlier.
The company reported a loss, before restructuring and other charges, of $51.8 million, or 14 cents pershare, against a loss of $47.5 million, or 40 cents, in the year-earlierquarter. Analysts reportedly were looking for a loss of 16 cents per share.
The net loss, however, widened to $1.35 billion, or $3.75 per share, from$234.75 million, or $1.98, in the year-earlier quarter. The net loss includes charges for restructuringoperations, revising partnership agreements and other cost-cuttinginitiatives.
For the year as a whole, WebMD lost $246.2 million, or $1.01 per share,before restructuring and other expenses, compared with a loss of $79.4million, or 99 cents, in the prior year. Revenue rose to $517.2 million from$102.1 million.
Web MD chief financial officer Anthony Vuolo said that the quarter's results "show thefirst benefits of the restructuring and integration plan" begun lastSeptember, and that those benefits "willcontinue to be realized throughout 2001."
Said WebMD president Marvin Rich: "Despite the soft Internet advertising market, we have been able to continueto sign new advertising contracts for our core WebMD.com advertisingbusiness."
The company is also beginning to sell its portalservices and is getting more business from physicians, Rich said.