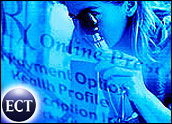 In a bid to survive the ongoing dot-com shakeout, Drkoop.com (Nasdaq: KOOP) said Tuesday that it will cut 45 workers primarily in its Austin, Texas offices and move the company's headquarters to Santa Monica, California.
Michael Davis, vice president and research area director for the Gartner Group, told the E-Commerce Times that Drkoop.com's latest move underscores the weakness of content as a "commodity" in the online health sector.
"Long-term, the only way those companies can survive is if they are acquired by or merged withcompanies with either business-to-business (B2B) or business-to-consumer (B2C) capabilities using subscription models, which are more sustainable," Davis said. "The advertising/sponsorship models are not goodenough to drive revenue growth to survive this market."
Drkoop.com said its restructuring efforts should reduce the company's monthly cash expenses to less than US$1 million. As recently as March, monthly expenses were running as high as $8 million.
"This move allows us to materially reduce our corporate overhead and put our people near where our clients and strategic partners are located," Drkoop.com president Ed Cespedes said.
Wall Street reacted positively to Tuesday's news, as shares of Drkoop.com rose 23.1 percent to close at 50 cents. However, the stock remains in danger of being delisted by the Nasdaq Composite Index.
Consolidations Key
Archrival WebMD.com figures to benefit the most from Drkoop.com's recent struggles.
However, WebMD estimated earlier this month that it would record a fourth-quarter loss of $50 to 55 million. Despite beating analysts' estimates the company's losses would fall in the $60 million range, WebMD is reevaluating its strategies and alliances.
"Right now there's a marketing advantage for having applications that are already entrenched in client bases, which is why you saw WebMD acquire Medical Manager," Davis said. "A lot of these companies are realizing the big enterprise companies already have relationships with clients, and that it's not so difficult to extend your product to them."
On the Rebound
Similarly, Cespedes said that Drkoop.com will now focus on creating new alliances and partnerships to extend the company's brand.
The company also said the consolidation will enable Drkoop.com to leverage its brand with brick-and-click ventures that include new revenue streams, such as licensing and subscription fees, revenue sharing, sponsorships and advertising.
Staying Alive
Drkoop.com has been changing course for several months. The online health information provider, whose chairman of the board is former U.S. Surgeon General C. Everett Koop, installed a new management team last summer, when it announced second-quarter losses of $40.6 million — more than double the $17.6 million loss recorded in the year-earlier quarter.
In November, Drkoop.com got a booster shot when it acquired lifestyles Web site drDrew.com, bringing the total number of registered members to the site to more than 2 million.
Nevertheless, for the first nine months of 2000, Drkoop.com reported an operating loss of $88.8 million against revenues of $9.31 million.
"You have to look at e-health in general," Davis said. "A lot of sites sprang up initially with a focus in content with a model using advertising or sponsorship to drive business. Two years ago, we looked at these models and didn't think they would be sustainable. We thought many vendors would be merging."