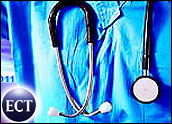 WebMD Corp. (Nasdaq: HLTH) rose 0.72 to 8.34 Monday after the Internethealth company said it will lose less money in the fourth quarter thanpreviously thought.
Chief executive officer Martin J. Wygod said preliminary calculations show theloss before depreciation, amortization, restructuring and related expenseswill be US$50 million to $55 million, rather than the $60 million to $65million previously estimated.
"These results are attributable to a more rapid implementation of ourintegration and consolidation initiatives," Wygod said. There will be"significant, non-recurring charges" in the quarter, relating to the company's consolidation efforts, he added.
WebMD is examining its products and partnerships, and is disposing of orrestructuring less profitable deals. The company recently reshuffled a jointventure with News Corp. in a bid to cut costs and maximize futureprofits.
WebMD said that move will result in a $275 million charge to fourth-quarterearnings, but lets the company retain the rights to $205 million in domesticmedia services over 10 years and gain full control over its internationaloperations. WebMD will continue to provide content to News Corp. in exchangefor $48 million over four years.
The company also recently endedan alliance with DuPont as part of the plan.
Wygod said sales and earnings at the company's Porex subsidiary had"softened." The division, which provides plastic technologies, has beentreated as a discontinued operation since September of 2000 and is being"disposed of" in a manner "designed to maximize the benefit to WebMD," Wygodsaid.
WebMD, based in Elmwood Park, New Jersey, uses the Internet to link doctors,insurance companies and others involved in the health system.