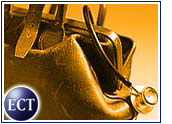 WebMD Corp. (Nasdaq: HLTH) gained 17/32 to 7 7/8 Thursday after the Internethealth care company ended a strategic alliance with pharmaceutical maker DuPontCo. (NYSE: DD) that called for DuPont to share a portion of the company's portal revenues.
The alliance, formed in March 1999, had been set to expire in 2004. Underterms of the agreement, DuPont was to have provided health care content toWebMD's consumer and physician portals and help WebMD create services andprograms for the pharmaceutical industry in exchange for a share of WebMD's revenues.
Instead of the alliance, the companies said they are "exploring a new opportunity for a further collaboration in the food and nutrition area."
WebMD chief executive officer Martin J. Wygod said the move to end theDuPont deal reflects a restructuring plan, which calls for thecompany to examine its strategic relationships in light of their potentialfor profitability.
"While we look forward to focusing our joint efforts with DuPont in the foodand nutrition area, we are very pleased to eliminate all revenue-sharingarrangements and to have enhanced our control over the development ofservices for the pharmaceutical industry," Wygod said.
WebMD links physicians, consumers and health care institutions through itsWeb network, and also provides services to the health care industry. Lastyear, the company merged with Healtheon, and until recently it was known asHealtheon/WebMD.
In September, the company announced a restructuring aimed at saving US$250 million per year andconsolidating a set of acquisitions made earlier in the year.