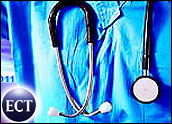 WebMD (Nasdaq: HLTH) slipped 5/16 to 7 5/8 Tuesday after the onlinehealth company restructured a year-old partnership with News Corp.,eliminating a pair of joint ventures.
The move, part of a plan by WebMD to get rid of strategic partnerships thatare not likely to benefit the company, will result in a US$275 millioncharge to its fourth-quarter earnings.
WebMD said it will retain the rights to $205 million in domestic mediaservices over 10 years, and will continue to provide content to News Corp. inexchange for $48 million over four years. In addition, WebMD will gaincontrol over its international operations, with News Corp. transferring its50 percent interest.
News Corp., in turn, will regain full control of the Health Network cablechannel after WebMD relinquishes its 50 percent stake.
WebMD chief executive officer Martin J. Wygod said ending the News Corp.venture "marks an important next step" in the restructuring, noting that it"highlightsour commitment to redefining our relationships so that they make botheconomic and strategic sense for WebMD and our partners."
Added Wygod: "In addition to reducing WebMD's outstanding shares, I believe that we haverestructured this relationship in a way that allows both WebMD and News Corpto apply their respective expertise and resources where each can create thegreatest value for shareholders."
W.R. Hambrecht called the partnership restructuring "a small positive" forWebMD, but said it was maintaining a neutral rating on the stock in light of"significant uncertainty" about the company's overall restructuring andoutlook for 2001.
Last week, WebMD shares rose as it endedan alliance with DuPont as part of its plan to evaluate its partnershipsin light of profit potential and strategic relevance.