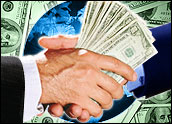 Qik, a company that has developed live video streaming services for certain smartphones, has received a boost in its financial backing from Netscape veterans Marc Andreessen and Ben Horowitz. The duo, which have made a "significant investment" in the company, are also joining Qik's board of advisors.
Bhaskar Roy, cofounder of Qik, declined to tell the E-Commerce Times how much Andreessen and Horowitz have invested in the company.
Platform Agnostic
Qik will be using the investment to expand its customer base to every mobile phone type — from the high end to the low end — in addition to the Nokia and Windows mobile phones on which it currently can run, Roy said.
A platform agnostic product, Qik allows users to stream video from a mobile phone to various Web sites or social networks. To use it, consumers log onto the Qik Web site to have a text message sent to their mobile phones. They then download the client onto the phone. With that client, all a user has to do to begin streaming video is to click the icon, Roy said.
The service also allows users to configure the groups to which videos are sent. "Some people may not want certain videos sent to family or business associates, or just may want them to show up on Facebook," he said.
Qik users can integrate the service with Twitter as well as stream videos to YouTube, Mogulus, MySpace and Justin.tv.
The people who are watching the videos can also chat about them, and that chat then appears on the mobile phone that is streaming the video, Roy added.
From the Mall to Burma
Qik's video streaming service can be used by both consumers and businesses. The consumer use, as one can imagine, is almost limitless. People could live stream parties or road trips or just a shopping excursion to the local mall to get friends' opinions about what to buy. The possible uses for business is almost as wide.
Though it took other Web 2.0 tools like Twitter or MySpace months or even years to make appearances in the business world, Roy reports that businesses are already using Qik. U.S. Congressman John Culberson, for example, uses it when he is campaigning, Roy said. The Vatican also uses it to publicize trips that the Pope makes.
Citizen journalism is another area in which Carla Thompson, a researcher with Guidewire Group thinks Qik will have a deep impact.
"It is an extreme example, but consider the protests in Burma that happened earlier this year," she told the E-Commerce Times. "Journalists were not allowed in, and no one really knew what was happening. Imagine what a tool like this could have meant." The same thinking could be applied to the aftermath of Hurricane Katrina or other natural disasters, she added.
Business uses include anything from Realtors who wish to share a tour of a commercial property with associates to analysts getting briefed on a new technology that they want to share with their colleagues.
"The reason why I like this technology is that it can be applied to such a wide swath of people."
Qik also raises questions of privacy. What if the video camera is aimed at a private individual who may not know or wish to be recorded and beamed to the friends and family of the person wielding the camera. The same is certainly true of anyone captured on a video that is then posted on a site like YouTube. Qik, though, makes that process that much more efficient — and more specific to a particular crowd of people.
"These are issues that require more thought and debate, not just for Qik but for all of these new technologies," Thompson said.
The Investors
Currently the cofounder and chairman of social networking platform Ning, Andreessen has invested in several Internet startups. He also serves on the board of directors for Facebook and for Open Media Network. He was the coauthor of Mosaic, one of the first Web browsers, and cofounder of Netscape Communications. Horowitz, also an alumnus of Netscape, cofounded with Andreessen the Web infrastructure company Loudcloud that was later named Opsware and acquired by HP. He is vice president and general manager of HP's Business Technology Organization Unit.
Other backers in Qik include Salesforce.com CEO and Chairman Marc Benioff; Arjun Gupta, founder and managing partner of Telesoft Partners; and George Garrick, president and CEO of Jingle Networks.