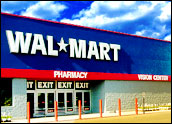 Walmart is reportedly giving Amazon the boot and will no longer allow the online retailer to sell its Kindle e-readers and tablets — beyond the inventory it already holds in stock — in the stores that make up its brick-and-mortar empire.
Target made a similar move earlier this year. Now, with Walmart following suit, Amazon's Kindle product line has been effectively cut off from a large swath of low-income and bargain-seeking consumers, David Cadden, a Quinnipiac professor of management, told the E-Commerce Times. "That has got to hurt."
While these devices were originally priced and marketed to higher-income consumers, Amazon has since released a wide range of products with several different price points. By selling the devices in stores such as Target and Walmart, Cadden said, Amazon was gaining impulse sales from shoppers who might see a device on the shelf and buy it, but not necessarily take the initiative to go online and order one.
Stomping Out Showrooming
Of course, Amazon was also gaining customers who would try out the devices at the stores and then order online — a practice dubbed "showrooming" and one that retailers understandably loathe.
"It is not surprising Walmart would do this, or Target for that matter," James Brehm, senior strategist and consultant with Compass Intelligence, told the E-Commerce Times. "Showrooming is a problem for a lot of retailers — including, no doubt, these companies."
Another reason Walmart likely pulled the plug is that its own e-commerce initiative is making serious headway, Brehm noted, and one of its main competitors is Amazon.
"For all the traction Walmart has made, Amazon still provides the best consumer shopping experience online," Brehm said.
Who's Next?
Now the question is how will Walmart satisfy its customers' desires for e-readers and smaller, cheaper tablets. Google's Nexus comes to mind, of course, as does the expected 7-inch tablet from Apple.
"It could be that Walmart is thinking long term about Apple," Brehm said, even lthough Apple could conceivably prove to be a top competitor to Walmart one day.
Certainly its iTunes' site is the online location to beat for movies, TV shows and music, he continued.
Should iTunes ever move into other products — which has been posited before, Brehm pointed out — Apple would prove to be a formidable competitor.
"Walmart could wind up blacklisting Apple too one day," he said.
Such speculation is for the very long term, however. In the immediate future, it is not even certain whether Apple will enter the 7-inch tablet market — although it is widely expected — so guessing where it will sell the devices is premature, Brehm said.
Amazon, for its part, can count on a presence in other brick-and-mortar stores, he added. "Staples just announced it would start carrying the Kindle; Best Buy and Office Max carry the product."
Losing the Online Sales Tax Edge
Amazon may find that these distribution channels are not enough to make up for losing its online sales tax edge. It is starting to collect from consumers sales tax for purchases in several states, after battling for years on the issue.
Thus Amazon has been looking to beef up its on-the-ground presence, in general.
The brick-and-mortar channel could become more important as a mechanism to sell the Kindle because of the online tax issue, Cadden said.
Also, the Kindle itself is seen as a loss leader for Amazon, he pointed out.
"It is important to Amazon because it is a mechanism for consumers to purchase its content," noted Cadden. "So if the objective is to sell as many Kindles as possible for that reason, then the loss of any distribution channel is a problem."
Walmart and Amazon did not respond to our requests to comment for this story.