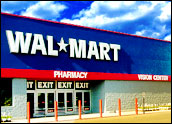 Walmart is targeting an interesting customer segment — shoppers with access to the Internet but perhaps no credit card to use for purchases — with its newly launched "Pay with Cash" initiative. It allows a customer to shop at the Walmart.com website and then pay for the order at a local Walmart store. Walmart will then ship the order to the customer.
The option is presented in a straightforward manner: During checkout, the customer is offered an option to pay with cash. If that option is selected, the customer receives an order number on the order confirmation page and an email receipt. The item is then reserved for 48 hours. During that time period, the customer must take the printed order form to a cash register at a Walmart store or Neighborhood Market.
Once payment is made, the order is shipped. Walmart doesn't expressly say whether the shipping is free — as it often is with online purchases — or whether the customer must pay for it.
Site to Store
The answer to that question is, it depends, Walmart spokesperson Ravi Gariwala told the E-Commerce Times. "First of all, there is no fee to use this service — it is just another payment option."
Also, he said, shipping is free — but only if the customer chooses the "Site to Store" option, in which Walmart ships the order to the local store, where the customer picks it up.
If the customer chooses to have the order shipped elsewhere, then yes, charges will apply, he said.
If shipping were free, it would be a surprise, given Walmart's propensity to keep costs as low as possible, David Cadden, a professor of management in the school of business at Quinnipiac University, told the E-Commerce Times.
However, the retailer has taken pains to emphasize how the service was tailored to meet the needs of the underbanked and low income, he noted. The Site to Store option fits this group's needs.
"This offering is clearly part marketing and part gimmick," Cadden said. Certainly, he added, the timing is interesting, in the wake of allegations that Walmart bribed local officials in Mexico.
The Underbanked
Walmart also pointed to customers who are afraid to use credit cards online as benefiting from this service — and without a doubt, there is good reason for consumers to fear that hackers may steal their identities or other sensitive information entered into a retailer's website.
Walmart's main target, though, is the underbanked demographic — that is, customers who can't afford standard checking accounts or debit cards, or whose credit has been cut off or maxed out as a result of the recession.
"This is definitely an underserved shopping group in general," Cadden said — although that is beginning to change.
More banks and retailers are offering products aimed at this group in order to exploit their purchasing power, he said.
One in four U.S. households fall into the unbanked and underbanked categories, Walmart noted, based on statistics from the Federal Deposit Insurance Corporation.
These same figures may explain the seeming contradiction of the Pay with Cash service. Many of these unbanked and underbanked customers do have online access, the FDIC said, at 81 percent and 63 percent, respectively.
The majority of Walmart transactions are paid for in cash or its equivalent, including debit cards. Approximately 15 percent of the store's transactions are paid for with credit cards.
A Savvy Retail Practice
Without a doubt, Walmart is hoping a service aimed at low-income consumers or those with little access to credit will boost its tarnished image, David Johnson, principal with Strategic Vision, told the E-Commerce Time.
"This service shows that it understands average American consumers [are] still struggling after the recession."
There is, however, very likely another motivation behind the service, Johnson continued — one that's decidedly retail-savvy.
"This gets the people in the stores, which is, obviously, a basic requirement of any retailer, even those that have a flourishing online component too," he said.
The shopper comes in to pay for the order and then happens to catch the low-priced specials near the checkout counter. Chances are, Johnson said, that shopper will pick up a few additional items.