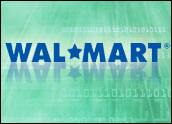 Walmart is planning a grand experiment for the holiday season: same-day delivery service in select markets for certain products purchased from its online store. There will be about 5,000 products — including flat-panel TVs, computers, office equipment and cameras — that can be delivered on the same day for a charge of US$10. The company is partnering with UPS to offer the Walmart To Go service.
This is not the first time Walmart has tried tweaking service options for its customers: Earlier this year, the retailer introduced a program that allows shoppers to place an order online and then pay for it at a brick-and-mortar store.
Same Day Holy Grail
However, it is same day service that appears to be the current Holy Grail for online retailers — which Walmart is, even if many consumers first associate the brand with its ubiquitous big box locations.
Walmart has a flourishing online operation and is clearly ready to innovate to compete, particularly with Amazon, which has floated a similar delivery service.
The thinking behind this strategy is to provide the best of both worlds to online shoppers — lower prices and bigger selection, plus the immediate gratification of receiving your purchase the same day without having to get in your car.
Amazon is increasingly threatening Walmart in the mass-merchandiser space, noted Marcia H. Flicker, associate professor of marketing with Fordham University.
"Offering same-day delivery defends Walmart's market share in the face of increasing convenience offered by all online retailers, without loss of timeliness," she told the E-Commerce Times.
Not that the service will be of interest to all online shoppers — or even many, Flicker added.
"Shipping costs remain one of the pet peeves of online shoppers, so only the truly time-sensitive are willing to pay for same-day delivery," she said. Also, "Amazon's Prime service, which offers two-day delivery for free, is a formidable competitive service."
Will It Work?
The question is, can Walmart pull off this particular play? Same-day delivery for retailers that historically never dealt with this service mode — think grocery stores — has been notoriously difficult to implement.
Nevertheless, Walmart can adapt, said Thom Blischok, chief retail strategist with Booz & Co.
The number of delivery items is relatively limited, and the fees are not outrageous — all the better to stay within the cost expectations of online shoppers, he told the E-Commerce Times.
Also, Walmart picked a trusted service provider in UPS, Blischok noted. Finally, and perhaps more importantly, Walmart understands the mindset of online shoppers, having made a success of its own e-commerce operation.
A Less Adaptive Organization
Still, Walmart could drop the ball. In general, it is a less adaptive organization, Adam Hartung, managing partner of Spark Partners, told the E-Commerce Times, and that is a quality that's necessary for this type of operation.
Another problem is that Walmart appears to be approaching the delivery service experiment as an extension of its original model, he said. "They will attempt to pick-pack-ship from the stores, and that is the method which doomed every traditional home-delivery service for goods and food.
"The only way you can ship to a home," Hartung continued, "is to have a distribution center designed for it, with appropriate inventory placement for fast pick and the right kind of truck service to dispatch in routes — not direct to the home. It is so wildly unprofitable to pick from a store and deliver that the entire concept violates the Walmart low-price mentality."