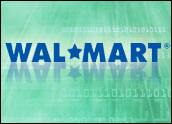 Some of Walmart's employees are taking aim at a major soft spot for any retailer: Black Friday, the most important shopping day of the year. A union-backed coalition called "Making Change at Wal-Mart" is organizing strikes this week, culminating on Friday, to protest the company's working conditions.
Walmart has already been the focus of negative press since its announcement that it would open its doors for special holiday sales on Thanksgiving Day, which is becoming known as "Gray Thursday." Making Change at Wal-Mart includes this decision among its reasons for organizing the strikes.
The group highlighted a married couple who will be working that day, leaving their two small children parentless on the holiday. The group also has an array of other complaints against the retailer, including its purported attempts to silence workers who protest certain practices.
'Excited About Black Friday'
Only a small percentage of its employees are participating in the strikes, Walmart says in a statement provided to the E-Commerce Times by Kory Lundberg, director of media relations.
"The super majority of our 1.3 million associates are excited about Black Friday and are ready to serve our customers," the company insists. "The fact is, we do not expect these actions by a very small minority of our associates (less than .0003 percent) at a handful of stores to have any impact on our stores or our customers shopping experience on Black Friday."
Walmart is aggressively countering the strikes, filing an unfair labor practice charge.
"The processing of the charge will take time, and I think it is unlikely that Walmart will get an injunction preventing the strike before it occurs," Chris Rhomberg, associate professor of sociology at Fordham University, told the E-Commerce Times. "It is more likely that their legal action is intended to intimidate workers and dissuade them from participating."
The Last Straw
Walmart is not the only retailer that will be open on Thanksgiving Day. Others, including Kmart, are opening at 6 a.m. in some locations on the holiday.
Still, for many Walmart employees, the Thanksgiving Day opening "was probably the straw that broke the camel's back," Michael O'Hara, CEO of Yumani, told the E-Commerce Times.
Even workers not aggrieved with the retailer for other reasons would likely be displeased with the holiday opening, he said. "Employees don't mind making sacrifices if they see they are getting something tangible out of it, or if working on that day solidifies a position or is clearly necessary to the employer's well being."
However, the widespread perception is that Walmart is just spreading out the holiday shopping season by an extra day, and that additional day is not likely to make or break it.
"So employees are probably feeling a bit frustrated by it all, especially if they are not getting paid overtime — which it's not clear if they are or not," Yumani said.
Walmart's Perspective
Of course, Walmart has its reasons for opening, likely a need to stay competitive with online retailers that never close.
Also, it is important to remember that Walmart is operating in a commodity product environment, said Eugene Fram, professor emeritus at the Rochester Institute of Technology.
Opening on Thanksgiving Day makes Walmart more competitive in that environment, "where selection, price and service are the only weapons available for differentiation," he told the E-Commerce Times.
One reason it is being targeted for its working hours over, say, Toys 'R' Us, is that it is the lead retailer in the U.S., Fram continued.
"As a result, Walmart is in a position to change the retailing culture and possibly the nation's culture in regard to this early opening, when many buyers find it convenient to shop earlier," he noted.
Walmart could be paving the way for all retailers to feel they have to open on Thanksgiving Day.
It's difficult to say whether other retailers will go along with this trend, however. Some are using their no-work-on-Thanksgiving policy in their advertising, Yumani pointed out.
All of this provides fodder for those who have long disliked Walmart for its labor practices and for its substantial position in the industry, Fram observed. "The chain has obviously factored this loss into the decision to open earlier and feels it is worth the risk."
However, Making Change at Wal-Mart is organizing protests over far more than the Thanksgiving Day opening.
The strikes are meant to "draw attention to … Walmart's weight in the economy, and the impact of its low-wage policies in pushing down standards for workers in the wider labor market," said Fordham's Rhomberg.
If the action generates any response from Walmart or the government in terms of asserting workers' rights, then it will be a success, Rhomberg said. "A successful action will demonstrate to other workers at Walmart and elsewhere that collective action is possible — and that is what the National Labor Relations Act is supposed to protect."