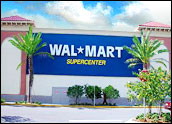 Walmart.com, the e-commerce arm of retail giant Wal-Mart (NYSE: WMT), opened an online college bookstore Wednesday, offering students discounts of up to 30 percent on more than 300,000 titles, including textbooks, study guides and graduate school guides.
"We want students to think of Wal-Mart for all their back-to-school needs, even college textbooks," Walmart.com senior vice president of merchandising John Fleming said.
However, there may be some flaws in Walmart.com's decision, according to Forrester Reasearch analyst Christopher Kelley.
"First, students don't associate Wal-Mart with textbooks, so [Wal-Mart is] going to have to drop a fair bit of money to even get students to think of Wal-Mart when they get their reading lists for their classes," Kelley told the E-Commerce Times.
"Furthermore, most of the books take two to three days before they are shipped, and then will take another two to six days for standard ground shipping," Kelley added. "This adds about one week once the order is placed — a time period that may already have the student's class in session before they get their books."
Booming Books
According to the National Association of College Bookstores (NACS), the market for college textbooks is US$6.6 billion each year. However, the NACS found that last year, less than 6 percent of college textbooks were purchased online.
Walmart.com's toughest competition in the online college book market will probably not come from Amazon.com (Nasdaq: AMZN), but from Barnesandnoble.com (Nasdaq: BNBN) and eFollett.com, the e-commerce arms of Barnes & Noble (NYSE: BKS) and Follett, respectively.
Barnes & Noble and Follett manage 74 percent of the 1,384 campus bookstores in the U.S., according to the NACS. Follett has the advantage, managing 640 of the campus bookstores, compared with Barnes & Noble's 385.
Shoppers at eFollett.com can choose their textbooks by accessing a course listing for their college and choosing the books required by their instructors.
Clicking on Campus
Walmart.com will also be facing stiff competition from campus bookstores that have adopted brick-and-click strategies. According to the NACS, over 93 percent of college stores surveyed have Web sites and almost 68 percent of those sites allow online ordering of textbooks and other bookstore items.
College bookstores running brick-and-click operations may have the advantage over Walmart.com, because the college stores offer students information on what textbooks they need and also allow students to use the brick-and-mortar store to pick-up and return items that they purchased online.
"Young consumers are a prime market for e-commerce, but when you talk about shipping for textbooks and supplemental paperback books that they will need for a class, the cost of shipping becomes prohibitive," Forrester's Kelley said.
"Add to that the fact that so many students drop and add classes during the first couple weeks of a semester — so if a student buys some books and then changes classes, they'll have to return the books back to Wal-Mart and order more, which will be a pain for the student," Kelley added.
Not Used
Walmart.com is also likely to be at a disadvantage because it does not offer students the opportunity to purchase used textbooks.
Amazon, BarnesandNoble.com, eFollet.com — as well as several smaller online college bookstores, such as eCampus.com — all allow students to both purchase and sell used textbooks.
College students needing to purchase numerous textbooks can save big money by buying used. According to the NACS, the average price of a new textbook was around $68 during the spring 2000 semester and the average price of a used book was about $50.
During that 1999-2000 academic year, the NACS said that $1.9 billion worth of used books were sold, or nearly 19 percent of all college bookstore sales (including school supplies and other school merchandise).
Comparision Is Key
As with most online purchases, comparison-shopping will be the key for college students looking to save money on books when school starts, because the various Internet booksellers vary widely in price for the same book.
A search by the E-Commerce Times found that Walmart.com was selling the textbook "Computer Science: A Breadth-First Approach with PASCAL" for the manufacturer-suggested retail price of $108.50. The same book could be purchased new at Barnesandnoble.com for about $70 and used for around $53. Prices at Amazon were $108.50 for a new copy and about $33 for used.
On at least one book, Walmart.com came out ahead of its competitors. The textbook titled "Auditing: An Integrated Approach" cost $77 at Walmart.com, but $110 new or $82 used at BarnesandNoble.com. At Amazon, a used copy cost around $29, and a new copy $110.