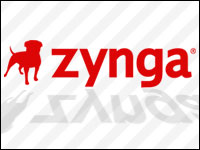 Zynga's shares got a lift from better-than-expected earnings reported earlier this week. The picture wasn't entirely rosy, though. The maker of once-popular social media games such as FarmVille and Mafia Wars reported revenue of $311 million for Q4, flat compared to the year-ago quarter. Analysts were expecting closer to $250 million.
Zynga admitted to slow daily user growth and acknowledged that increasing its mobile presence will be an ongoing challenge throughout 2013. Zynga's number of users dropped to 298 million, down from 311 million in the previous quarter. Its daily users decreased from 60 million to 54 million.
For the year, Zynga experienced 12 percent growth compared with 2011, bringing in $1.28 billion.
Driving revenue is a huge priority for the coming year, especially in the mobile space, CEO Mark Pincus noted in an earnings call. Cutting costs is also on the deck for 2013, which he called a "transition year" for the company.
Zynga did not respond to our request for further details.
Cutting the Facebook Cord
Investors were encouraged by Zynga's results. Its stock rose by as much as 11 percent after the earnings announcement to trade around $3 a share going into Wednesday afternoon. It was trading at $2.90 by mid-day Thursday.
The rise might be due in part to low expectations, said Raphael van Lierop, founder and creative director of Helm.
"There's been a pretty constant stream of bad news coming out of Zynga over the past several months, what with ongoing high-profile employee departures, a diminishing player base, and a stock price that's a shadow of its former self," he told the E-Commerce Times. "Perhaps earnings that aren't disastrous feel like good news?"
The unexpected success of FarmVille 2, an increasing mobile presence, and the company's cost-saving measures helped convince investors to back Zynga right now, said Arvind Bhatia, an analyst atSterne Agee.
Although the latest quarter was pleasantly surprising, Bhatia noted the coming year is going to be full of challenges for the company.
Zynga needs to show it can survive without Facebook's preferential treatment. The social network will start developing its own games in March. Zynga won't be kicked off the Facebook platform, but it will face increased competition and won't benefit as much from Facebook's undivided promotion.
"There is limited visibility with respect to 2013," Bhatia told the E-Commerce Times. "In part this is due to the upcoming changes in business terms with Facebook, which could prove challenging. The company needs to prove it can still create hits profitably, especially after its favored status on the Facebook platform dissipates."
Going Mobile
Like many of its peers in the social landscape, one of Zynga's additional challenges going forward is determining how to increase and monetize its mobile presence. With consumers turning away from PCs and toward smartphones and tablets for all types of gaming, Zynga knows it needs to adopt a mobile strategy.
That strategy needs to focus in part on content that will engage new users and, more importantly, ensure that they stick around, said Helm's van Lierop.
"Zynga has done a great job of educating millions of players about casual games, only to have those same players graduate beyond Zynga's brand of relatively shallow game experiences," he pointed out. "They mastered those games and want something more but can't find it in Zynga's slate, so they go elsewhere."
Keeping those players around is a tall order, van Lierop acknowledged. It's not an impossible one for Zynga, however, especially given its initiatives in other key areas of gaming.
"Zynga's pretty late to the game in terms of adopting mobile as a key pillar of its product strategy, but it still has a huge number of monthly players it can leverage if it is eventually successful at executing on a mobile strategy," he noted. "The promise of introducing real-life gambling to its portfolio must make investors drool. I don't think Zynga is done."