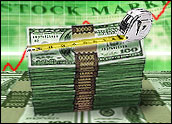 If Wall Street could truly predict a company's future, then Facebook should be packing up its offices this morning. The social media giant's stock value dropped close to 10 percent on Monday, to US$20.79. The trigger for the stock drop — this time — was a report in Barron's questioning whether Facebook had the wherewithal to successfully develop a mobile ad platform. The stock price hadn't moved by mid-day Tuesday.
This is, however, just one episode in Facebook's short but dismal career as a public company. Since its IPO debut, the stock has fallen sharply from its $38 per unit launch price.
Google, meanwhile, saw its stock rise by more than 2 percent to reach the exalted level of $749.38 on Monday, amid reports that its mobile ad path is brighter now that concerns about the Motorola Mobility acquisition and integration are fading. It continued its climb, scaling above the $760 mark by mid-day Tuesday.
Investors are coming to the conclusion that Facebook is not quite the threat it was originally thought to be.
Firing on All Cylinders
Expect these two story lines to solidify and fill in even more over the coming months.
"Google is firing on all cylinders and is on track to overtake Facebook in display ads," Mike Tarsala, chartered market technician at Covestor, told the E-Commerce Times.
"Even the long-held worry that Google's takeout of Motorola would limit growth going forward is now in the rearview mirror," he noted. "Meanwhile, Facebook still struggling to build an advertising business around mobile customers."
Google's fundamentals are sound, which is soothing to investors, said Rob Enderle, principal with the Enderle Group. "Google continues to be supported by strong Internet ad revenue pushing revenues and profits higher."
Piling on Facebook
It is an ironic turn of events for Facebook, whose IPO was one of the most anticipated in recent memory. A few short months ago, the company could do little wrong; now, seemingly, there is little it can do right. CEO Mark Zuckerberg? He's too callow to pull the company through these troubled times. Facebook's plan to shift to mobile? It hasn't materialized yet, but already the consensus is it will be a failure.
Facebook CEO Mark Zuckerberg is to blame, at least in part, according to Tarsala.
The shift to mobile somehow took him by surprise, he said.
"Facebook still has technology, business and privacy challenges to overcome before it can be a significant mobile player," Tarsala maintained. "In the meantime, it's still an expensive stock. Few on the Street are giving it the benefit of the doubt."
The market and investors were done a disservice by the build up to Facebook's IPO, Enderle said.
"The deeper people look, the worse the company appears — and Zuckerberg lacks the skills necessary to change the perceptions that surround his company," he explained. "Given how he has locked in control, it is as if he doesn't really care, because he thinks he can't get fired."
That doesn't leave investors feeling very warm and fuzzy, suggested Enderle. More importantly, Facebook's mobile efforts — essential to Facebook's future growth — appear to be failing, and users are starting to drift away from the service.
No Bubble Here
The good news about this week's stock market performance is that it has reassured investors that tech stocks are not in a bubble phase and indeed may have more room to grow, Tarsala said.
"Stock buyers are more concerned right now with management execution and growth at a reasonable price," he said.
"That's why you see Google rallying. Sure, investors are still attracted to companies with strong growth potential like Facebook," Tarsala acknowledged, "but they're not going to pay up for a 'prove it' story right now."