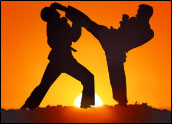 Viacom's billion-dollar copyright-infringement lawsuit against Google's YouTube took a nasty turn Thursday as a series of documents filled with bitter accusations and unsavory secrets were released to the public.
Viacom has painted a picture of Google and YouTube as a group of reckless copyright violators.
"Fostering and countenancing piracy were central to YouTube's economic business model," Viacom's filings charge.
Prior to acquiring YouTube, Google executives knew that it was a "pirate site" whose "business model is completely sustained by pirated content," the Viacom filings contend. "But after buying its former rival, Google abandoned its scruples in order to continue growing the YouTube user base until well into 2008."
To prove its assertions, Viacom cited a 2005 email from YouTube cofounder Steve Chen to fellow cofounders Chad Hurley and Jawed Karim that reads, "Jawed, please stop putting stolen videos on the site. We're going to have a tough time defending the fact that we're not liable for the copyrighted material on the site because we didn't put it up when one of the cofounders is blatantly stealing content from other sites and trying to get everyone to see it.'"
'Deliberately Roughed Up Videos'
Google, for its part, was well-armed with accusations of its own. While arguing that YouTube was protected by the safe-harbor provisions and notice-and-takedown procedure of the Digital Millennium Copyright Act (DMCA), the company charged in its filings that "some of the very clips that plaintiffs previously authorized to be on YouTube are among those that plaintiffs have sued YouTube for hosting."
In fact, Viacom has "overtly and covertly uploaded to YouTube a vast array of their own video clips for marketing purposes," Google wrote.
The company "deliberately 'roughed up' videos to make them look stolen or leaked," YouTube Chief Counsel Zahavah Levine charged on a company blog. "It opened YouTube accounts using phony email addresses. It even sent employees to Kinko's to upload clips from computers that couldn't be traced to Viacom."
While Viacom now portrays YouTube as a pirate site, it thought highly enough of it to try to buy it before it was acquired by Google, the filings claim.
Seeking $1 Billion in Damages
Viacom seeks US$1 billion in damages from YouTube, which it claims allowed users to upload more than 100,000 video clips from Viacom-owned networks and movie studios, including BET, Comedy Central, MTV, Nickelodeon and Paramount Pictures.
The suit was filed in 2007 in the U.S. District Court for the Southern District of New York, and U.S. District Judge Louis Stanton set March 5 as the deadline for filing for summary judgment.
Google and Viacom have both also filed statements of undisputed facts. They now have until April 30 to file opposing arguments.
'Doing Everything Right'
What the new documents may mean for the case, should it go to trial, is now a matter of much debate among legal experts.
"There's a fundamental problem here, which is that the government is trying to regulate technology, but it can never get it right except at the moment the legislation is passed," Jim Burger, an intellectual property attorney at Dow Lohnes, told the E-Commerce Times. "The content industry thinks it can solve its problems with legislation — then it's unhappy with the deal."
YouTube was "doing everything right, and trying to go above and beyond what the law requires" in terms of notice-and-takedown procedures, Burger explained. "We're talking about complying with hundreds of thousands of notices, sometimes on weekends."
'That's Just Wrong'
Yet "Viacom is still after their butts," he added. "I'm sorry, but that's just wrong. If you make a deal, you need to stick with it."
Viacom should be "working with Google to do economic deals here," Burger asserted. "The law just requires notice and takedown. I don't think it's the right way to deal with what's a business and marketing issue, not a legal issue."
Ultimately, "I'm hoping the judge will give a strict interpretation to the law and find that Google's not guilty of infringement," Burger concluded.
'Intellectual Property Be Damned'
On the other hand, "Viacom makes a strong showing for pervasive and rampant copyright infringement," Raymond Van Dyke, a copyright attorney in Washington, D.C., told the E-Commerce Times. "Viacom's summary judgment motion includes supposedly lost emails and other information demonstrating the mood at YouTube to allow anything, intellectual property be damned."
Google, however, "gives as good as it gets," he noted.
Some of the facts in the 2005 Supreme Court case MGM Studios, Inc. v. Grokster are analogous to this situation, Van Dyke pointed out.
In that case, "defendant Grokster adopted a see-no-evil-hear-no-evil defense, alleging no liability for what their users posted," he recounted. The court ultimately disagreed, however, and ruled that Grokster was liable.
An Early Decision Unlikely
Viacom "analogizes YouTube to this situation, and the recently uncovered emails seem to indicate this," Van Dyke noted.
Both sides interpret the DMCA differently as well, he added.
With both sides making such strong arguments, it is unlikely that the court will decide the case this early on the motions, Van Dyke predicted.
"With the facts here so similar to Grokster, it will be interesting if the court will hold for Viacom at this stage," he concluded. "There is a compelling need to give new technologies some rope."