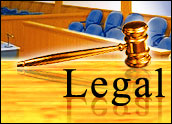 The patchwork system of digital commerce laws adopted in recent years is showing signs of wear as Viacom's US$1 billion suit against Google moves forward.
Last year, Viacom filed its complaint in the U.S. District Court for the Southern District of New York, alleging that Google owed it damages for purloined content — nearly 160,000 unauthorized copyrighted clips — that had made its way onto the popular video-sharing Web site. In response to the suit, Google has a) implemented faster processes to take down protected content following notification; b) developed its own video-monitoring system; and c) invoked the Digital Millennium Copyright Act, which provides safe harbor to Web sites that genuinely are unaware of copyright violations that occur on the site.
Most recently, Google tested a new argument in a filing responding to Viacom's suit.
By insisting on a content-sharing crackdown, Viacom "threatens the way hundreds of millions of people legitimately exchange information, news, entertainment and political and artistic expression," Google maintains.
"Legitimate services like YouTube provide the world with free and authorized access to extraordinary libraries of information that would not be available without the DMCA — information created by users who have every right to share it," notes Google.
YouTube more than fulfills its obligations under DMCA "in assisting content owners to protect their works," Google adds.
Viacom's response to all this has essentially been "nice try, but not good enough." Viacom's position as it presses its case is that Google must surely be aware that copyright infringement is taking place on the site, and it should be taking proactive measures to stop the activity. Viacom cites the DMCA in its arguments as well.
Mental Shift Required
The case is confusing, with both sides able to cite the DMCA in support of their respective — and opposing — positions. The case illustrates the failure of the legislative process to deliver an all-encompassing approach to regulating e-commerce — especially as companies more aggressively to adopt Web 2.0 technologies.
"There needs to be a brain shift in how we deal with copyright issues on the Web," Peter S. Vogel, a partner with Gardere, told the E-Commerce Times.
A way to fairly compensate the owners of copyrighted material without granting absolute monopolies on its use is the missing piece, Vogel said.
Revenue Streams
Indeed, revenue is at the heart of this case. Simply put, Viacom believes it is losing money every time its content is reproduced on YouTube. One counter argument is that much of the illegally shared content consists merely of snippets of shows, songs or videos. The proliferation of these stolen snippets indirectly benefits Viacom, because they sometimes prompt viewers to spend money to obtain TV shows, videos or music from the legitimate copyright owners.
"It is not like the music-sharing on the Web, where the music company clearly loses potential revenue every time a song is downloaded for free," Kevin Levy, a shareholder with the Gunster Yoakley law firm and co-chair of both the technology practice group and the emerging growth companies practice group, told the E-Commerce Times.
Still, these arguments are trumped by the obvious: Google is making money from YouTube. A lot of it.
Google's position — that Viacom's lawsuit flies in the face of Internet freedom by attacking the way hundreds of millions of people share their experiences and lives — is a nice argument intended to appeal the better nature of the court, Levy said. But "it fails to address the monetary gain reaped by YouTube through users' unauthorized use of Viacom's — and many others' — copyrights."
Levy thinks it is likely the case will ultimately settle, partly because that is how most commercial litigation ends, but also partly because neither side can afford to lose its legal argument. "They can come up with a legitimate way to share this revenue."
Indeed, last year Viacom inked a distribution deal with Joost, providing it with much of the same content that can be found on YouTube. Financial details about the transaction have not been revealed, but it's widely believed that Joost agreed to give Viacom a significant share of the advertising revenue it's expected to generate.
New vs. Old
The Viacom v. Google lawsuit is a retread of the new technology versus existing content rights struggle best exemplified in the U.S. Supreme Court's Betamax decision from 1984, in the view of Joe Englander, a patent attorney at Shutts & Bowen.
"Every time a new technology is developed, there is tension between the copyright holder and the new technology — and the new technology always wins," he told the E-Commerce Times.
Viacom doesn't have a chance in this case, says Englander. Google has the DMCA to provide it with legal cover, plus the actions it has implemented to try to keep copyrighted material off of the site.
New Considerations
Not so, counters Lou Solomon, an attorney at Proskauer Rose, which represents the Premier League of English Soccer, along with music publishers Bourne Co. and Cherry Lane, in their copyright infringement class action against YouTube-Google, which has been consolidated with Viacom's suit for purposes of discovery.
The DMCA was written to protect companies making a good faith effort, he told the E-Commerce Times. "The level of copyright infringement still occurring on YouTube shows that Google is not making such an effort."
A decision in favor of the copyright holders could dramatically change the way Web 2.0 sites conduct business, Solomon added. New considerations that Web 2.0 sites may have to take into account include whether the site is a purely passive one, what kind of gain it gets from the content, and what it will it do if it sees there is rampant copyright infringement on the site, he said.
Viacom is likely to prevail, Thomas A. Smart, chair of Kaye Scholer's trademark, copyright and false advertising group, told the E-Commerce Times. "YouTube is a different vehicle than those in the older cases that found in favor of the ISPs — they were passive vehicles. You cannot make the case that YouTube is passive."
The case will turn on the interpretation of the knowledge requirements in the safe harbor provisions of the DMCA, predicts Paul Arne, who heads the Web 2.0 group at Morris, Manning & Martin.
"If this case results in a decision, it will likely be one of the most important ones ever decided related to the Internet," he told the E-Commerce Times. "A very large number of new business models, including most social media sites, may be impacted by this case. It is hugely important."