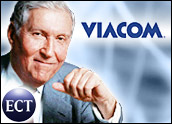 Traditional broadcasting giant Viacom, which reported lackluster earnings from its over-the-air properties such as CBS and UPN, said today it is looking more to cable and the Internet, where the company sees greener pastures for its content and bottom line.
For its first quarter 2005 financial results, the company reported that revenue was up to US$5.6 billion, led by a 19 percent gain from its cable networks, which include MTV and Nickelodeon.
However, the company's sagging results for its television, radio and advertising divisions were accompanied by news the broadcasting giant might split in two along the lines of old and new media.
Exploring Separation
Viacom officials indicated in the earnings report that the company is considering acquisition of Internet companies, such as video gaming and other community sites.
Continuing to define its strategy to deal with new, multimedia markets and changes, Viacom said it plans to announce its direction by the end of the next financial quarter. The company has indicated its split would consist of one company with its "high-growth businesses," including MTV, and a second company that would combine its CBS television station with its radio and advertising divisions.
"We continue to explore the separation of Viacom into two new and focused entities that could better position our businesses for continued growth and enhance shareholder return," said a statement from Viacom Chairman and Chief Executive Officer Sumner Redstone.
Blurring Broadcast Lines
Forrester analyst Charlene Li told the E-Commerce Times that many traditional media companies, including Viacom, are blurring the lines between over-the-air broadcasting, cable programming and Internet content largely because new technologies — digital video recorders (DVRs), video on demand, and set top boxes — are presenting new opportunities for audience, advertising and revenue.
Li said while the future of the 30-second television ad does not look good, companies such as Viacom are leveraging more targeted advertising with the help of cable TV programming and new consumer appliances that help define markets and demographics.
"You can know who's watching and have more targeted advertising," she said.
Media Disconnect
Li said while traditional, broadcast television audiences are dropping, companies are still trying to maintain their revenues with higher ad prices, which the analyst described as a losing proposition for companies such as Viacom.
However, there is growing opportunity for media companies looking to leverage the explosive Internet advertising market.
Li explained that while the average consumer spends as much as one-third of his or her media time online, the Web represents just 3 to 4 percent of advertising dollars spent.
"So there's this big disconnect in time and influence," she said.
Viacom's indication it would like to purchase Internet companies is a reflection of the changing media landscape, Li added.