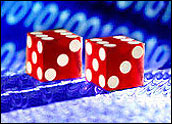 In a closely watched case with potentially far-ranging implications about Internet governance, the World Trade Organization (WTO) ruled that the U.S. can set certain limits on Web gambling sites located in offshore locations.
The decision was seen as a partial reversal of last November's ruling against the U.S. In that instance, a three-person committee ruled that the U.S. had violated international trade treaties by attempting to interfere with Web gambling operations in the Caribbean nation of Antigua.
While stopping short of handing the U.S. a complete victory, the WTO opened the door for the U.S. to impose regulations and restrictions on Internet gaming.
Some Limits Allowed
In fact, the 138-page ruling was broad enough that both the U.S. and Antigua were claiming victory.
The WTO said the U.S. could restrict online gambling on sporting events, but could not prohibit offshore companies from offering online betting on horse racing, since some states already allow that form of gaming over the Internet.
The U.S. maintains that the ruling essentially upheld long-standing prohibitions against online casinos that exposes those who operate them to prosecution under U.S. law.
Specifically, the WTO cited language in existing international trade law that gives a country an exception from open trade policies when prohibitions are necessary to protect "public morals." The earlier ruling had found that the U.S. had no right to claim that exemption.
"U.S. restrictions on Internet gambling can be maintained," acting U.S. Trade Representative Peter Allgeier said. The office of the trade representative will explore how to address a specific finding relating to horse racing, he added, but won't ask Congress to weaken existing restrictions on Internet gambling. "This report essentially says that if we clarify U.S. Internet gambling restrictions in certain ways, we'll be fine."
Antiguan officials, however, say the ruling means that casinos there and in other Caribbean countries will need to be given equal treatment to any U.S. counterparts. Also, the operator of one of that country's largest sports-betting sites told the New York Post he would force the issue by attempting to buy advertising for his Web site on U.S. television networks. The networks were expected to reject the ads, setting the stage for additional legal action.
Years in the Making
Antigua filed the case in 2003, arguing that federal and state prohibitions on Internet gambling violated WTO rules on trade in services. However, it actually goes back to 1998, when the U.S. successfully brought charges against Jay Cohen, then-president of the World Sports Exchange, which was based on the island nation. Cohen was arrested when entering the U.S.
Cohen's case wended its way through the appeals courts before the U.S. Supreme Court declined to review the matter. He served about 21 months in jail.
Sebastian Sinclair, an Internet gambling analyst with Christiansen Capital Advisors, told the E-Commerce Times that the case is important to both U.S. regulators and the American gaming industry, which makes billions of dollars not only on gaming but on people traveling and staying in gaming cities, such as Las Vegas.
Sinclair has said that online gambling expenditures are poised to grow to nearly US$11 billion in the U.S. this year, nearly five-fold growth since 2000. If the U.S. chose to embrace online gaming and attempted to regulate it to ensure that players are of legal age — the most common argument against Web gaming is the lack of age controls — it could generate hundreds of millions of dollars in tax revenue as well as create scores of new jobs in the information technology industry.
However, Sinclair sees little possibility of that happening, even with the outside pressures being placed on the U.S. by foreign online casinos. "The U.S. seems to be going in the opposite direction of the rest of the world on this," he added.
State by State
Some say the ruling also appears to have left open the possibility of other challenges to other apparent inconsistencies in the nation's gambling laws, which vary widely from state to state. For instance, a foreign nation could argue that state-run lottery games and Indian tribe-run casinos in some states also give an unfair advantage to U.S. entities over those attempting to conduct trade from overseas.
Trade experts, meanwhile, say the case has highlighted the clash between modern technology and sometimes decades-old trade agreements. One often-repeated criticism of the WTO is that it has the power to force a country to change its internal regulations if they're seen impeding trade or treating potential importers of goods or services differently than domestic ones.
Even newer treaties often fail to capture the nuances of Internet commerce, resulting in disputes across the globe over whether a nation's citizens should be allowed to conduct over the Internet what is otherwise illegal activity.
Meanwhile, Trinity University professor John R. Hermann said the U.S. has an even more tangled Web to deal with since it has inconsistencies from state to state and a lack of cohesive federal regulations over gambling and other issues.
The Internet, he said, has highlighted those differences.