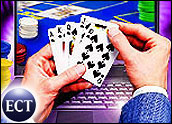 The World Trade Organization (WTO) yesterday ruled that the United States violated its international trade obligations by prohibiting online gambling. The WTO said the U.S. should open its borders to international online casinos.
The office of the United States Trade Representative (USTR) vowed to vigorously appeal what it called the "deeply flawed" decision.
"Throughout our history, the United States has had restrictions on gambling, like many other countries," USTR spokesman Richard Mills said.
"Given these restrictions, it defies common sense that the United States would make a commitment to let international gambling operate within our borders."
Caribbean Complaints
The conflict has its roots in a June 2003 case brought by the Caribbean island nation of Antigua.
Antigua is saying that the U.S. does not allow online gambling within its borders but that there are large numbers of American gambling organizations overseas. The Caribbean nation says that constitutes an unfair trade practice.
Antigua is saying that the U.S. committed to cross-border gambling when it became a WTO member. The WTO upheld the argument.
The WTO ruling allows Antigua to issue trade sanctions against the U.S., according to Sebastian Sinclair, an Internet gambling analyst with Christiansen Capital Advisors.
"While the immediate repercussions of this decision are not far reaching, it does establish a precedent," Sinclair told the E-Commerce Times.
"The U.S. and the rest of the world appear to be walking down two different roads in regard to this issue," Sinclair said.
Betting on Future
Christiansen Capital estimates the worldwide gambling market will post US$7.4 billion this year, with half of those revenues coming from the U.S. Online gambling operators have targeted U.S. consumers for three reasons: unsatisfied demand, high Internet access rates and high disposable income.
Will capitalism prevail to eventually allow online gambling within U.S. borders? Is it possible that the WTO could dictate the U.S. policy on this issue?
"Sports betting is a widely prohibited activity in the U.S.," Sinclair said. "I think we will eventually see the U.S. allow online gambling within our borders, but that's a long way down the road."
Regulating Online Gambling
Analysts said it is difficult to regulate online gambling, with so many people logging on from their private homes. But the U.S. government is not ignoring the issue.
A grand jury has convened in Missouri to investigate media companies who run ads on sports talk shows to draw U.S. citizens to overseas online gambling sites. Sinclair said this action is making an impact.
"The Department of Justice may be trying to establish a case of aiding and abetting sports betting by running ads," Sinclair said. "Just the fear of that alone has caused many companies to pull these ads."