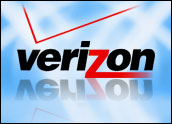 Despite a 38 percent drop in quarterly profits when compared to its 2005 fourth-quarter results, Verizon Communications' performance exceeded Wall Street estimates for the second consecutive quarter largely due to its strength in the cell phone sector.
Verizon said it earned US$1 billion in the final quarter of 2006, or 35 cents per share. While that is significantly less than the $1.7 billion, or 59 cents per share, the company reported in Q4 of 2005, Verizon noted the latest figures reflect non-recurring charges due to tax payments for the sale of its Dominican Republic assets and costs involved in the spin-off of its directories publishing business.
Higher Revenue
Setting those costs aside, Verizon's fourth-quarter earnings weighed in at 62 cents per share. Wall Street analysts expected 61 cents per share for the quarter. Verizon noted its fourth-quarter revenue of $22.6 billion was 26.1 percent more than fourth-quarter revenue of 2005, and its full-year revenue for 2006 was $88.1 billion, nearly 27 percent higher than the 2005 figure.
On the other hand, the telecom giant experienced a 29.6 percent increase in fourth-quarter expenses when compared to the Q4 figures from 2005 and a 31.3 percent increase in yearly expenses. Verizon stock prices stayed relatively unchanged yesterday.
Micro-analyzing quarterly numbers misses the point when it comes to Verizon, according to veteran telecom analyst Jeff Kagan. "I look at the competition and from that perspective, what's happening is the industry is changing dramatically and Verizon seems to be doing very well so far," Kagan told the E-Commerce Times.
The company said it gained more than 2 million new wireless customers in the fourth quarter and now has 59.1 million nationwide.
"This was the second time in the company's history that quarterly net customer additions exceeded the 2 million mark," noted Verizon in its report. "Based on publicly available information, the company has the largest retail customer base in the industry … and the company added 7.8 million to its retail customer base in 2006."
At the end of the third quarter, Verizon said its revenue rose 26 percent in large part due to the acquisition of long-distance company MCI. With MCI sales stripped out, sales were up about 4 percent.
Aside from securing new wireless customers, Verizon is managing to keep wireless users from switching to its competitors or "churning." "The company continued to set industry records for low churn," Verizon said. "Total churn was 1.14 percent for the quarter and 1.17 percent for the year."
Convergence Competition
The report shows Verizon continues to be a savvy player in a fiercely competitive market, claimed JupiterResearch analyst Todd Chanko . "My first instincts are sales went up because they are doing a good job at acquiring customers," he told the E-Commerce Times. "Expenses are part of subscriber acquisition costs. It doesn't surprise me. They are trying to ramp up a major video project. They're trying to branch out with FiOS (Verizon's fiber-to-the-premises network)."
The fact that Verizon's quarterly report shows an impact by some rather hefty expenses was expected, explained Chanko. "It's kind of a no-brainer, in a way," he added.
Verizon said the FiOS network, through which customers can receive both Internet and television, exceeded 6 million customers by the end of 2006. "This exceeds the company's year-end target and more than doubles the number of premises passed by year-end 2005," Verizon said.
Verizon is doing a better job than AT&T when it comes to positioning itself for the growing convergence market, Kagan stated. While Verizon still faces tough competition from existing cable providers, Kagan noted, cable companies cannot offer true one-stop shopping for customers because they don't offer wireless telephony.
The competition might be fierce, but it's good, he continued. "We don't know who's going to win. Maybe nobody is going to win. You want to have competition. That's what keeps prices low and innovation big," Kagan concluded.