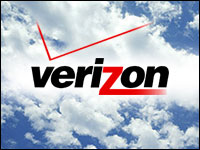 Verizon will reveal a new shared data policy this summer and end its unlimited data option, according to CFO Fran Shammo.
Currently, the company allows customers who had a US$30-per-month unlimited data plan before Verizon's switch to tiered plans last July to keep their unlimited plans when they upgrade their phones to LTE devices. That option will soon be eliminated, said Shammo, at the 40th Annual J.P. Morgan Technology, Media and Telecom Conference in Boston.
The new policy will also include a data share pricing model, wherein customers can buy a chunk of data that can be used across multiple devices. It's an effort to move away from the unlimited structure and into a model in which Verizon measures business on a "revenue per account" metric, rather than revenue per user, Shammo said. He said data sharing would be attractive for families and small businesses looking for a way to affordably connect multiple devices.
Verizon said the plan is a result of its customers asking the company for ways to share data similar to the way they share minutes. The wireless provider is working on the specifics of that plan and will release specifics later this year.
Verizon declined to provide further details.
Killing Unlimited
Unlimited data offerings are becoming rarer among the major U.S. carriers. AT&T allows longstanding data customers to grandfather in their unlimited data plans when they renew contracts, but an unlimited plan isn't an option for new customers. Sprint is the only major U.S. carrier that offers new customers the option of an unlimited data plan.
Verizon felt the move was necessary as it expands into its new LTE network, Shammo said.
"Right now there is a shortage of capacity, and wherever there isn't enough of a thing it is generally better to charge for the use of it," Rob Enderle, principal analyst at Enderle Group, told the E-Commerce Times. "That will help generate the funds to eliminate the bottlenecks."
As the overwhelming use of smartphones and cellular data is relatively new, the industry is still trying to manage the balance between keeping customers satisfied with data levels and being able to maintain that data use.
"The death of unlimited data is and was inevitable," Dan Olds, principal analyst at Gabriel Consulting Group, told the E-Commerce Times.
"For mobile carriers, the spectrum crunch certainly plays a role, but they're also struggling to satisfy a vast hunger for data. This isn't going to get any better. Recent technical developments will make mobile devices a much better stand-in for a full laptop or desktop computer — which will only drive data appetites higher," Olds added.
Unlimited data plans' days have been numbered almost since the time they were first introduced, Charles Golvin, an analyst at Forrester, told the E-Commerce Times.
"In the long run — with voice revenue and margins on the decline — operators had to find a way to turn on data metering and tie usage to price," he said. "We will continue to see operators expand the number of tiers of data plan so that customers can 'right size' their data allocation, just as they learned to do with voice."
Consumers Better Get Used to It
That change in business model is something that customers are going to have to get used to, said Enderle, as all the major carriers are getting to a point where spectrum is limited, albeit some sooner than others.
"AT&T and Verizon, largely thanks to iPhones, are over capacity and can't sustain unlimited plans. But it may be a while before T-Mobile and Sprint jump on board because they have headroom at the moment," he said.
Since Sprint is the only major carrier offering unlimited data, it could get a temporary boost from frustrated Verizon customers, said Enderle, but they would only be frustrated once again when Sprint finally runs into a similar problem. And given Verizon's level of service and customer satisfaction, the company might not feel the wrath of consumer outrage with this move, said Golvin.
"No one likes it when they feel the have something taken away, and more so when the effect is likely to be a higher bill," said Golvin. "Some customers may dislike it enough to switch, but given that Verizon's change applies only to those upgrading to its LTE network and Sprint does not yet offer equivalent service quality, my suspicion is that most Verizon customers who face this choice will bite the bullet and pay the higher fee."