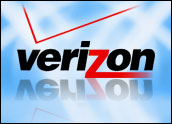 Telecom giant Verizon's second-quarter profits fell 21 percent from the same period last year, but much of the decline was attributable to charge-offs due to previous workforce reductions and deteriorating demand among business customers battered by the global recession, the company reported Monday.
The company announced plans to cut 8,000 more jobs in the second half of the year as it continues to reduce its cost structure.
The company reported diluted earnings per share of 52 US cents, down 21 percent from the same period last year. Adjusted earnings, which exclude charge-offs and other unusual items, came in at 63 cents per share, down 6 percent from the same period in 2008.
Details of Adjustments
Adjustments included 9 cents per share in severance, pension and benefit costs connected to previous reductions in its workforce and 3 cents for merger and acquisition costs associated with Verizon's purchases of Alltel and MCI.
The company reported an 11.3 percent increase in total operating revenue in the quarter, including a 27.7 percent increase in total wireless revenue. However, wireline revenue declined 5.2 percent to $11.5 billion, despite good growth in private IP services and FiOS TV signups. Overall, global enterprise revenue declined 6.7 percent over the second quarter of 2008.
Wireless and Fi0S grow
Verizon said it had logged 300,000 new Fi0S TV customers and 303,000 Internet customers in the quarter, bringing its totals to 2.5 million for TV and 3.1 million for Internet. The company also seems to be holding its own against AT&T and the iPhone. Verizon added 1.1 million net new customers during the same quarter that saw the release of the new iPhone 3GS.
Slimming the Workforce
Verizon's decline highlights the need for continued reductions in the cost structure of the company's wireline divisions, President and CEO Denny Strigl said in a conference call to investors. To that end, the company plans to eliminate 8,000 employee and contractor positions in the second half of 2009.
"Clearly, the broader economic issues are affecting the business; however, I am very pleased with the success we had in wireless, FiOS and strategic business services this quarter," he said.
Enterprise Weakness
BMO Financial analyst Pater Rahmey told the E-Commerce Times that Verizon's numbers were slightly better than his projections of 62 cents per share, adjusted.
The company's weakness — global enterprise revenue — is the same weakness every large telecom is seeing, he added.
The continued deterioration of global enterprise revenue — which came in down 3.4 percent in the first quarter of the year — suggests the recovery for telecom firms such as Verizon will likely stretch into 2010, despite forecasts calling for a tech-sector recovery late this year, he said.
Implications for Recovery
Telecom and broader technology spending tend to be lagging indicators, and even if the economy is turning around right now, it will take time to spread to IT spending.
It will likely be 2010 before telecoms and other tech companies begin to see positive results, said Stifel Nicolaus analyst Christopher King.
"It will be at least another couple quarters before they see a turnaround," predicted BMO's Rahmey.
It's too early to tell if the 8,000 job reductions announced by Verizon will be enough to realign its cost structure to economic conditions. The company is also aggressively attempting to shred debt.
We probably haven't seen the last pink slips out of Verizon.
"I would imagine there's more to come," said Rahmey.