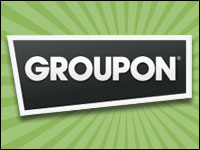 Groupon got a stock bump this week following an analyst's upgrade, a rare occurrence for the daily deal site that has seen its stock price plummet since its debut on the public market.
The company's evolving business model, an increasing presence in mobile commerce and an international push can help the online coupon dealer hit US$9 per share over the next 12 months, according to a note from Arvind Bhatia at Sterne Agee.
Daily deal sites haven't been the subject of such optimism lately. Investors have voiced concerns about the overall market for Groupon and its competitors, notably LivingSocial, questioning whether the established sites are sustainable in a business with so few barriers to entry, or whether retailers will continue to see the value in offering bargains via online coupons.
Groupon's stock has taken a beating since the company went public in November 2011 in what was the biggest Internet IPO since Google. Since opening at $20 per share, Groupon's stock has fallen about 80 percent and has recently been trading around $5.90. At one point it dipped as low as $2.60.
Last December, Groupon CEO and founder Andrew Mason acknowledged the stock drop and industry pressure at the Business Insider Ignition conference. Mason understood that board members might question whether he were the right person for the job, he said, adding that he would fire himself if he felt he couldn't flatten the "bumps in the road."
In It for the Long Haul?
Bhatia voiced more confidence than many of those board members and investors, however. Groupon's efforts to develop its typical business model beyond email and into search were especially promising, he pointed out.
In the past, Groupon has relied mainly on daily email blasts to alert subscribers about deals. Last November, though, Groupon launched its Local Marketplace service that lets consumers find nearby deals via Web or mobile searches. The company debuted the feature in Chicago and New York, with additional U.S. cities scheduled for rollout soon after.
Those searches currently account for less than 5 percent of Groupon's revenue. Since about 50 percent of mobile searches are for local goods and services, however, Bhatia is confident that Groupon has yet to really tap into a potentially lucrative market.
If it can keep raising its active deals, he said, the site will be able to keep up with the demands of an on-the-go consumer marketplace.
Groupon's competition isn't as formidable as many have feared, Bhatia also said. LivingSocial is its only true rival. That gives Groupon an advantage in scale that would be difficult for a newcomer to recreate, no matter how few barriers to entry there were in the business.
Diversifying Daily Deals
Groupon's stock jumped following Bhatia's encouragement. It rose about 6 percent Wednesday and continued trading up — around $5.60 per share — going into Thursday afternoon.
Not all analysts were ready to jump on a Groupon bandwagon, though, although that's not because of typical concerns about the daily deal model, said Richard Chemel, vice president of JustDeals.com. Now that Groupon and other sites have gone beyond simply offering deals on restaurants or entertainment and moved to products, consumers are even more eager to check out what they have to offer.
"Daily deal sites are here to stay," Chemel told the E-Commerce Times. "The public has now accepted that daily deals sites have great products at great values."
That shift, however, is part of the reason that Groupon in particular might not be a great long-term investment, said Trip Chowdhry, senior analyst for Global Equities Research.
"Daily deals are a good concept, but Groupon's business model is just not sustainable the way it is now, and to change that would be a really fundamental change that would be difficult to pull off," he told the E-Commerce Times.
Amazon and eBay are much better positioned to have long-term success in an evolving daily deal model, said Chowdhry. They already have an established customer base, shopping and delivery platform, and business relationships that allow them to give great deals. Most importantly, they have other areas of their business they can fall back on if fewer consumers splurge on their deals than expected.
"Groupon is doing OK right now, as far as competition," he said. "It might be OK for a while, but if your company is only existing to offer daily deals, you're going to lose too much money and eventually just won't be sustainable. But if you're offering daily deals just to enhance other areas of your business, that's where you can have the real long-term success."