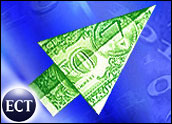 ePlus, Inc. (Nasdaq: PLUS) soared 4 1/4 to 12 Thursday after the companyannounced it expects to beat analysts' expectations for both third andfourth-quarter earnings.
The Herndon, Virginia-based provider of online procurement, asset managementand financing services said higher margins and lower-than-expected expenseswill result in earnings per share for the third quarter ending December 31st that are 5 cents ahead of analysts' consensus forecast of 11 cents.
In addition, for the year ending in March, the company said it expects earnings of 75cents per share, ahead of analysts' prediction of 60 cents.
"Our Internet strategy has been right on target from day one, and we aresticking with it," said ePlus chairman and chief executive officer Phillip G. Norton.
Because the company provides "value-added services," such as financing and equipment sales and service, it does not rely on partners — a "distinct competitive advantage" that allows ePlus to "capture the margin that others are giving away," Norton said.
For the second quarter ended in September, ePlus reported e-commerce revenueof $3.06 million, up 27 percent from the preceding quarter, as it processed$37 million in transactions. The company reported net income of $2.02million, or 21 cents per share, down from $2.09 million, or 28 cents, in theyear-earlier quarter.
"We are building a diverse customer base that spans the technology,industrial, professional services and education sectors," Norton said.
According to the company, as of November 10th, it had 133 e-commerce customers.