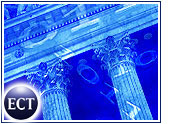 Most online financial services have yet to gain a foothold among consumers, according to a study released Wednesday by business services firm Mercer Management Consulting.
As part of its report, Mercer found that the number of Internet users who had purchased insurance, loans or mortgages online lagged far behind those who bought computer hardware, apparel and other consumer goods via the Web.
In a survey of over 1,200 consumers, Mercer said that 5 percent of respondents had purchased insurance online and that 3 percent had taken out loans or mortgages over the Internet. This showing comes despite the fact that online traffic at financial services sites has increased roughly 150 percent — more than twice as fast as the rate of increase for overall Internet usage — since July 1999, Mercer said.
"Consumers still prefer to conduct a large percent of their transactions over non-digital channels," said Mercer vice president Mike Riley. "This reluctance continues despite the fact that substantial segments of consumers — in some cases more than 40 percent — express openness to the idea of purchasing financial services online."
Big Names Lead
Mercer cited brokerage and banking firms as the financial service industry's online leaders, noting that in general they have leveraged their technological capabilities to produce unique consumer offerings while improving productivity and boosting revenue.
Across the sector, venerable brands such as Charles Schwab, Merrill Lynch and Fidelity hold the "greatest promise" as e-business competitors, the study said. Not only have these firms developed strong digital business designs, said Mercer, but they have also provided consumers with a wide variety of information and choices.
Insurance Industry Lags
By comparison, the insurance industry has been less successful in building on its digital capabilities, Mercer said. Characterized as "slow movers," insurance firms have not directed their technological investments toward improving their core business models, according to the study, titled "Digital Business Designs in Financial Services."
Moreover, Mercer said that insurance company Web sites have the lowest customer retention rates in the financial services industry, while banks have the highest.
Wary but Ready
For their part, newer financial services entrants will have a tougher time establishing viable online business models. According to Mercer, these firms are hindered by higher customer acquisition expenses, resulting from costly Web alliances, as well as lower customer retention rates.
Despite these struggles, the study found that consumers are still open to buying financial services online, provided they are receiving a competitively priced product from a reputable source.
"Companies that will be most effective in this market will be those incorporating the keenest awareness of the consumer into their digital business designs," said Riley.