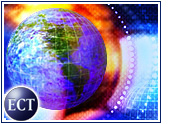 Internet users around the world have a greater willingness to buy products and services online than do their U.S. counterparts, according to a report released Tuesday by research firm International Data Corp. (IDC).
The firm also predicted that by 2004, many countries — including Korea, Japan, France, Brazil and China — will demonstrate significant growth in business-to-consumer (B2C) e-commerce. IDC surveyed 30,000 Web users in over two dozen major Internet-using countries before reporting its findings.
Global E-Commerce Blueprint
IDC's researchers analyzed the international markets for financial services, computer hardware and software, and media industries.
For companies offering products in these categories, the report outlines which countries' consumers will be "the best targets" based on their propensity to make online purchases in the category, according to IDC chief research officer John Gantz.
"Companies making the decision to go global need to move at Internet speed because the international markets are the next battlegrounds for traditional e-commerce players and aggressive start-ups," said Charlie Baxter, chief executive officer of eTranslate.com, a Web services provider that worked with IDC on the report.
Data Breakdown
The study found that 26 percent of Net users in China are willing to buy stocks and investments online, compared to 24 percent in the United States.
Although 69 percent of U.S. respondents said they are willing to buy computer software online, that figure was eclipsed by users in Venezuela, where three-quarters of those surveyed would make such purchases. Large percentages of consumers in in Brazil, the Netherlands and Japan were also ready to buy computer software.
Likewise, media companies would do well to focus more attention to overseas markets. Eleven of the countries surveyed had a higher percentage of users willing to buy information than the U.S., where only 37 percent of users indicated that they were inclined to do so. Those figures include Argentina at 47 percent, Germany at 43 percent, and China at 38 percent.
The numbers are even higher for traditional e-tail sectors. Roughly a quarter of Japanese Web users said they buy clothing online, which is nearly four times the number of U.S. users purchasing clothing via the Net.
A similar gap exists in the music sector. Nearly three-quarters of consumers in India said that they buy music online, as compared to 41 percent of U.S. consumers.