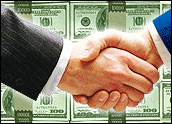 Internet service provider and Classmates.com parent United Online has agreed to acquire floral vendor FTD Group for about US$800 million.
United Online's offer of $15.08 per share is about a 12 percent premium on FTD's closing price of $13.50 on the New York Stock Exchange Tuesday.
As part of the deal, FTD shareholders will receive $7.34 in cash, 0.4087 shares of United Online for each share held, and $3.31 of United Online notes, for a total value of $15.08 per share of FTD stock based on United's closing price of $10.83 on Tuesday.
Encouraging Repeat Purchases
FTD Chairman Michael Soenen called United Online "the ideal partner" in helping his company enhance efficiencies in expanding its customer base.
The acquisition will help United Online diversify its sales stream by leveraging the FTD brand over United Online's customer base of 50 million, the company said.
"We will explore opportunities to encourage repeat purchases of FTD products using reward programs based on our MyPoints loyalty marketing service," said Mark Goldstein, United Online's chairman, president and CEO.
Woodland Hills, Calif.-based United Online, which provides Internet and media services primarily in the U.S., operates in two segments. Its communications segment provides dial-up and broadband Internet access and e-mail services under the NetZero and Juno banners. Its Classmates Media segment is oriented toward social networking services under the Classmates.com brand. The company also has online loyalty marketing services under its MyPoints label.
An Odd Combination?
"I don't immediately see where the synergy is," Jonah Stein, chief executive officer of ItsTheROI.com, told the E-Commerce Times.
"[Maybe] they just looked at FTD as a good solid portfolio piece they wanted to add — it's hard to say. It's possible they just like the company itself without seeing any far-reaching synergies. How they fit together as a cohesive unit, it's up to United to figure out," he added.
"[Nevertheless,] a flower company wanting to diversify their retail product makes sense," Stein said. "You can see how it would benefit them to be part of a larger organization."
Although the combination appears strange, FTD has a "decent business," Greg Sterling, principal analyst at Sterling Market Intelligence, told the E-Commerce Times. "It's a pretty solid business that's going to give [United] a good revenue source."
Wait and See
FTD adds a heavy-hitting piece to United Online's portfolio, commented Rob Enderle, principal analyst with the Enderle Group.
"FTD is a powerful company," Enderle told the E-Commerce Times. "If you think about folks that might want to send flowers, that might be one of the areas to look at, particularly if you want to connect your social network to a particular service."
However, FTD might be just one part of a larger strategy United Online has in mind, he noted. "I'd think if they're on this particular kind of path, we'd have to see what else they acquired to build their portfolio."
The acquisition should close sometime in the third quarter, the companies said, adding that it will augment United Online's per-share earnings starting in the second quarter of 2009.
FTD shares were up 10 cents to $13.60 midday Wednesday. The stock had a year-on-year range of $8.94, which it reached Jan. 22, and $19.08, on June 25.
United Online shares were trading at $10.04 on the Nasdaq stock exchange. The stock's 52-week range was $9.55, also on Jan. 22 and $17.97, on Oct. 26.