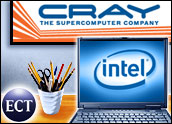 Intel has signed a multiyear agreement with supercomputer vendor Cray.
The deal gives microchips from Santa Clara, Calif.-based Intel an avenue into Cray supercomputer systems that serve some of the most highly advanced computing applications in the government, military and engineering sectors.
The two companies will explore future supercomputer component designs, such as multi-core processing and advanced interconnects. Cray and Intel also plan to work together on the development of an array of HPC systems and technologies.
The deal gives Cray some additional reach, Charles King, president and principal analyst for Pund-IT, told the E-Commerce Times. "The company obviously would like to be seen less as a niche player in the supercomputer market. They've tended to be overshadowed by vendors who were leveraging x86 chips that dominate the market."
Bragging Rights
At the same time, the agreement helps Intel cut into some of rival Advanced Micro Devices' business. AMD has been a major vendor for Cray.
"Cray does a lot of business with AMD and has done well there," King commented, "but as supercomputing goes mainstream, it's important to have access to x86 chips, and Intel is associated with those the most. They're the company, I think, that most commercial customers that want x86 are going to work with."
From a branding standpoint, it's important for Cray to work with Intel, as doing so could open up Cray as an option for customers that want only Intel processing chips in their systems, he added.
"Intel gets bragging rights for doing business with a company that had been an AMD-only supercomputing vendor, and Cray doesn't have the position in supercomputing they once did, so this works out for both sides very nicely," King said.
Showcase for Nehalem
The deal also is a shrewd showcase for Intel's next-generation Nehalem microprocessor, Edwin Mok, an analyst with Needham & Co., told the E-Commerce Times. "This agreement is a kind of introduction for that product, which Intel will come out with in the fourth quarter."
Indeed, Nehalem has the ingredients Cray requires, he noted. "Intel didn't have the architecture Cray needed, but now they do, with this Nehalem. And they're a reliable supplier."
Intel shares were trading at US$22.56 Tuesday afternoon on the Nasdaq stock exchange. The stock had a year-on-year range of $18.05 and $27.99. Cray shares were at $6.76 on the Nasdaq, with a 52-week range of $4.46 and $12.90.