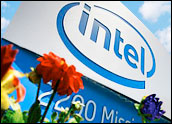 Intel posted first-quarter results Tuesday that met or slightly beat expectations — the chipmaker lowered its own targets last month — and posted record revenue for the seasonally slow time of year.
The company's results were a win for the tech sector, with investors driving Intel shares up about 6 percent in afternoon trading Wednesday to $22.12.
Intel posted revenue of $9.7 billion for the quarter, up 9 percent from the first quarter last year, and net income of $1.4 billion, or 25 cents per share, down 12 percent from the year-ago time frame.
The chipmaker continued to see its financial results dragged down by sharp losses from its flash memory business, but said its core processing business remained strong and buoyed investors with a stronger-than-expected outlook.
Optimistic About Growth
The results "demonstrate a strengthening core business and a solid global market environment," said CEO Paul Otellini. He cited healthy demand for core processors and chipsets across all segments.
"We remain optimistic about our growth opportunities," he said. Otellini downplayed the impact of a U.S. economic slowdown or recessions, noting that three-fourths of the company's revenue comes from overseas sales. "We really don't see it impacting business."
Intel managed to sell more of its NAND flash chips, but said revenue from that unit remained flat, due to price decreases put in place to move inventory. Strength in other business areas helped offset the continued soft pricing in the flash area, however.
Watching for Signs
Tech sector observers closely watch Intel's earnings for a couple of reasons. For one thing, they come early in the earnings cycle and set the tone for what's to come later this week and next — when heavyweights such as IBM, which releases results after the markets close on Wednesday, and Google, which posts on Thursday.
Also, the chipmaker's place at the foundation of a range of technology products, especially servers and computers, make it a key bellwether of the industry's overall strength.
The results — and a previous warning from Advanced Micro Devices — suggest Intel has continued to pick up more market share from its main rival, especially in the server area. AMD — which reports Thursday — has already warned results will miss targets and said it will institute layoffs to cut costs.
Flash memory — used in a host of devices such as mobile phones and digital cameras — remains a drag on many of its makers, not just Intel, Mercury Research President Dean McCarron told the E-Commerce Times. "The market was flooded, and now everyone's cutting prices to move inventory."
Intel, however, is well-positioned to handle the price hit. The company is diversified enough to overcome weakness in one business area and still gain ground on rivals, he said. While AMD had enjoyed a brief surge when it gained on Intel, the tables have turned more recently.
Shifting Sands
Intel's outlook is stronger than Wall Street analysts expected. The chipmaker now says revenue for the second quarter would be $9 billion to $9.6 billion.
Intel is benefiting from the move away from desktops toward notebook computers, with laptop chipsets expected to surpass desktop processors in sales volume for the first time later this year.
In the first quarter, mobility chip sales were up 11 percent, but profit was down 14 percent, a sign that price pressure has ratcheted up in that segment as notebooks become increasingly commoditized, said Gartner analyst Leslie Fiering.
Intel has become the provider of chips for Apple's higher-end notebook computers, but much of the rest of the market is shifting toward lower-cost models, Fiering told the E-Commerce Times.
In fact, Intel last year announced it was joining the board of the One Laptop Per Child program, which is seeking to produce millions of low-cost machines.
Still, strong results in Intel's server unit — which posted record revenues — suggest demand from businesses remain strong, a good omen for the tech sector amid signs of economic distress, Fiering said.
"It looks like high-end server chips sold well," she noted, suggesting businesses are not halting their tech spending just yet.
Intel may still face a decision on its NAND chip business. CEO Otellini noted that he remains committed to seeing the business turn profitable over time.