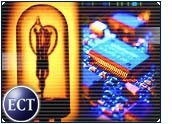 Following in the footsteps of private industry, the U.S. government is turning to e-business to fuel its supply chain, improve its employment programs and dispose of its surplus goods.
Three separate announcements marking Uncle Sam's transition to the online realm came Wednesday, from the U.S. Department of Defense (DOD), the Department of Labor, and the Defense Reutilization and Marketing Service (DRMS) — the military surplus agency that serves the Army, Navy, Air Force, Marines and Coast Guard.
"We're seeing government start to use some of these mechanisms private companies have already been using," John McCarthy, a government analyst with Forrester Research, told the E-Commerce Times.
McCarthy said that the federal government is about 18 to 24 months behind private industry in adopting e-business methods.
Defense Supplies
The DOD selected the Ariba Commerce Services Network (Ariba CSN) and its Network Connect program to improve its internal marketplace and procurement system, known as E-Mall, and boost the number of its suppliers.
According to Ariba vice president and general manager Shannon Lynch, by working with Ariba CSN's large network of suppliers, the DOD will improve access to its own existing suppliers and ramp its supplier base.
DOD is aiming to improve the management of its purchasing process, increase efficiencies and reduce costs. At DOD E-Mall, customers can buy off-the-shelf, finished goods from both government and commercial suppliers.
The DOD is looking to leverage Ariba's network to "significantly increase the number and types of suppliers — particularly small and disadvantaged suppliers — supported on the site," Ariba said.
Don O'Brien, DOD E-Mall program manager, said that government suppliers will be able to use the same Ariba-enabled catalog content and business processes for the DOD that they use with their commercial customers.
Federal Job Bank
In other news, Uncle Sam also announced a new joint venture with Monster.com Wednesday.
The Department of Labor intends to work with the Maynard, Massachusetts-based Internet job-search company to share information and job listings with America's Job Bank, a national employment search program. Monster.com will link to the federal job bank and will cross-post its listings.
"America needs a wake-up call about its workforce," Secretary of Labor Elaine L. Chao told employment summit participants at Washington, D.C.'s MCI Center.
Chao said that the government needs to address technological changes in the workplace and demographic changes in the workforce — or face significant economic consequences.
"My hope is that starting with [Wednesday's] summit, we can be a catalyst for positive change in our workforce," Chao said. "We also need to identify where the government needs to get out of the way of change, freeing workers to choose the work arrangements that best suit their needs."
Selling the Surplus
In other news, the DRMS, the agency responsible for the disposal of excess property generated by the U.S. military, has signed a contract with Surplus Acquisition Venture (SAV) and Government Liquidation, both subsidiaries of Liquidation.com, to sell US$23 billion of military surplus property.
Through 2008, all usable, non-hazardous surplus property generated by the U.S. military in the United States, turned over to DRMS, and not requiring demilitarization, will be resold by the companies held by Washington, D.C.-based Liquidation.com.
Liquidation.com said it would combine its existing network of over 100,000 surplus buyers with over 60,000 active DRMS buyers to help DRMS convert the surplus property to cash over the next seven years.
Tom Burton, president of Government Liquidation, said that the deal will allow the military to realize increased returns and significant cost savings.
Under the terms of the agreement, Government Liquidation will split the proceeds of all property sold under the terms of the contract with the DRSM at a set percentage, which was not disclosed. Goods to be sold under the contract include aircraft parts, vehicles, clothing, medical items, furniture and commercial kitchen equipment.