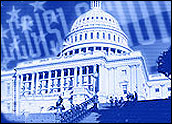 The overriding message is certainly true. Leading members of Congress are telling President George W. Bush that truly global e-commerce is necessary for a strong U.S. economy.
No arguments there. But the next step is one that should be taken with great care: Bush is being urged to jump into the fray and help pave the way for worldwide e-commerce growth.
Congress passed a resolution filled with so much rah-rah language that it would seem all but impossible to be against. Sen. Joseph Lieberman said, "The Digital Age ? is opening new markets and growth opportunities for all types of U.S. companies."
That seems benign on the surface. All that these lawmakers want is for restrictive barriers to be brought down, to free up the caged-in portions of the e-commerce world.
But just beneath is the Pandora's Box of government interference and involvement — the very demons that e-commerce and its best cheerleaders on Capitol Hill have worked so hard to avoid.
Fortunately, some lawmakers have had the foresight and intelligence to see where this road leads — namely toward stepped-up regulation.
On Balance
Fact is, there is far bigger downside than upside when the government starts taking a role in promoting e-commerce.
Yes, there are barriers to trade affecting Internet-based commerce, but what will bring those barriers down most effectively is the will and desire among businesses the world over to grab their piece of the pie. It might take a bit longer, but the momentum that Lieberman and others speak of is the best friend of the movement. E-commerce can create its own lucky breaks.
The introduction of government involvement is something that most corners of the high-tech world have fought hard to avoid. Take Internet taxes. E-commerce leaders and others have gone well out of their way to make the argument that government intervention in the form of access taxes and other online taxes would be crippling to a still-nascent industry.
Saving Privacy
A similar position has been taken on Internet privacy. "Let us regulate ourselves" has long been the refrain from the Web community.
The idea is that if e-commerce companies regulate effectively enough, they can avoid having the government do it at higher cost and with less flexibility.
So the industry prefers to be left alone.
Lonely Are the Brave
At least, e-commerce wanted to be left alone when times were as good as they could get and all the business that was needed was close at hand in North America.
Those days are over and the world has to become the marketplace if any kind of high-tech growth is to be sustained. But it's a market that can and should be won without asking for help from the government.
Once that door gets opened, escorting the government out and getting the door closed again will be next to impossible.
What do you think? Let's talk about it.

---
Note:
The opinions expressed by our columnists are their own and do not necessarily reflect the views of the E-Commerce Times or its management.
---