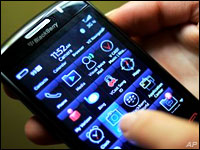 The United Arab Emirates announced on Sunday that BlackBerry Messenger, BlackBerry E-mail and BlackBerry Web browsing services will be suspended in the UAE as of October 11.
"BlackBerry data is immediately exported offshore, where it is managed by a foreign, commercial organization," the federation's Telecommunications Regulatory Authority (TRA) explained. "Today's decision is based on the fact that in their current form, certain BlackBerry services allow users to act without any legal accountability, causing judicial, social and national security concerns for the UAE."
The ban will reportedly affect not just the device's 500,000 subscribers within the UAE but also foreign visitors, according to a report by The Associated Press.
Saudi Arabia, meanwhile, has said it would bar the use of the BlackBerry instant messaging service alone, according to reports.
The UAE's TRA did not respond by press time to the E-Commerce Times' request for further detail.
'Disappointing and of Great Concern'
"RIM operates in over 175 countries today and provides a security architecture that is widely accepted by security conscious customers and governments around the world," the BlackBerry's Canadian maker said in a statement provided to the E-Commerce Times. "RIM respects both the regulatory requirements of government and the security and privacy needs of corporations and consumers.
"RIM does not disclose confidential regulatory discussions that take place with any government; however, RIM assures its customers that it is committed to continue delivering highly secure and innovative products that satisfy the needs of both customers and governments," it added.
Since 2007, the UAE has been attempting to bring BlackBerry services in line with its telecommunications regulations, it said. In light of the upcoming ban, local telecommunications operators Etisalat and du have been instructed "to ensure minimal consumer disruption in the provision of alternative services," it noted.
"BlackBerry appears to be compliant in similar regulatory environments of other countries, which makes non-compliance in the UAE both disappointing and of great concern," asserted TRA Director General Mohamed Al Ghanim.
'Just Too Secure for the UAE'
"I believe the 'problem' is that BlackBerry service is just too secure for the UAE government," Allen Nogee, principal analyst with In-Stat, told the E-Commerce Times. "RIM/BlackBerry service goes over and above the encryption and security which most wireless devices use to communicate with their wireless operator, and sometimes corporate network."
While the result of the ban "could be bad for RIM in terms of servicing UAE, it may help the company long-term by allowing it to stand out as the most secure wireless device, which could help the company gain customers elsewhere," Nogee opined.
Because the topic hasn't been noted as a problem within the United States, "it can be assumed that the U.S. government and RIM have given U.S. authorities a means to eavesdrop on and monitor BlackBerry transmissions — something it appears that RIM is not yet willing to do with UAE authorities," Nogee pointed out. "Generally, companies are unwilling to openly discuss such things."
'Changes That Threaten the Status Quo'
It is a confusing situation, telecom and wireless analyst Jeff Kagan told the E-Commerce Times.
"Perhaps this is about a government's worry about too much freedom of information in the hands of the people and what that could possibly mean for their way of governing," Kagan suggested. "Freedom of information tends to lead to a desire for freedom.
"The world is changing quickly," he pointed out. "In many countries, that means having fun with new technologies — but in other countries, it can mean significant changes that threaten the status quo."
In short, "I, too, am at a loss to understand," Kagan concluded. "It's like watching something where you just can't believe your eyes, and you stand there for a while, stunned."