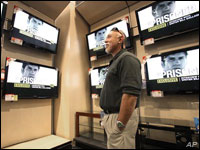 Three years after Apple launched the iPhone, mobile commerce has reached a tipping point, driving retailers to change the way they think about their businesses. Mobile commerce has evolved from its origins as a marketplace for "virtual" goods like ringtones and applications to one enabling the sale of "real" products, particularly low-cost items that offer immediate gratification.
But what is the impact of mobile commerce on retailers whose products require a greater level of consideration and come with a bigger price tag? While it remains to be seen if consumers will ever feel comfortable purchasing a sofa through their phone, the influence of mobile commerce technologies on their lives — and consequently their buying habits — is undeniable.
Mobile commerce means more than just buying goods through your phone. Increasingly, mobile is impacting how consumers search, locate and decide to purchase goods both online and in brick-and-mortar stores. As consumers are evolving into true cross-channel shoppers, the real mobile opportunity for retailers presents itself. Integrating mobile into a comprehensive cross-channel strategy ensures you are meeting your customers where — and how — they shop for your products today.
Capturing Consumers on the Go
Most of today's consumers use the Internet to plan the limited time they have for brick-and-mortar shopping expeditions, browsing from a home or work computer to optimize how they will spend the discretionary hour or two they've allocated for shopping.
To capture this shopper, a compelling "traditional" website is a must — ideally one that is synchronized with what's happening in local stores. With a localized website in place, retailers, especially those targeting smartphone-wielding demographics, should take the next step — capturing consumers who have already left the house.
Whether or not they believe their products will ever sell over a phone, retailers can take advantage of location-based services and GPS-enabled phones to entice on the go consumers into stores. Product information, prices and nearby locations to "touch and feel" products can be "pulled" through local searches by consumers. Coupons and promotions can be "pushed" to consumers' phone based on their location.
Sears recently launched a mobile application that allows customers to search its products, browse by category, review current coupons, etc. During the 2009 holiday season, Best Buy ran a first-of-its-kind location-based augmented reality promotion to help drive traffic to their retail locations as consumers were out buying gifts. The ability to target customers who were near their store at that given moment offered a new way to interact with shoppers, and we expect to see more advanced campaigns to roll out in the next 18 months.
Mobile In-Store Connectivity
Mobile not only helps to drive customers into stores — it can help close the deal once they are there. Consumers increasingly use their mobile devices as in-store shopping tools, often relying more on their phones than on pricetags or salespeople.
The quick research conducted on a mobile device while in-store is frequently the final push customers need to make the purchase. Retailers that facilitate the research process through mobile shopping tools synchronized with in-store execution will ultimately close more sales.
This is especially critical for retailers selling big-ticket items, as they require more research and consideration than smaller purchases. You'll often see big-ticket customers standing in store aisles, iPhone or BlackBerry in hand, researching product comparisons and reviews for the big-screen TV or appliance they are about to purchase. The more sophisticated customer may also scan product barcodes in the store with their phone to instantly compare prices at different retail locations.
These mobile in-store behaviors underscore the importance of complete synchronization between pricing, promotions and selection offered in-store and what your customers see via online and mobile research. Tailoring your mobile sites to a user's location and offering localized product or promotional information consistent with your traditional website is critical to enabling customers' mobile research.
Enabling the Socially Mobile
You'll also see consumers in stores take a photo, share a link or ask advice from friends in their social networks or on Twitter prior to their purchase. Product reviews — part of the broader definition of "social networking" — are a particularly important way to build customer confidence in a big-ticket purchase. Mobile consumers are looking not only for facts to support their purchase decision, but also endorsements from friends (or at least other consumers).
The impact of social media as part of a complete cross-channel approach cannot be ignored. Already impacting the traditional e-commerce space, the growing use of social applications through mobile devices highlights the importance for retailers to carve out a social media presence that ensures that their brands are visible and accessible, and that their websites are optimized for mobile viewing and sharing.
Next Steps for Retailers
While the mobile commerce evolution is still in its early stages, there are certainly steps that retailers can — and should — take advantage of now.
First, be sure that your "traditional" website fully supports your local stores. Then (and only then) decide on your objectives for your mobile strategy — what consumer behaviors do you want to enable on mobile devices? With this strategy in hand, evaluate the pages on your site that support these behaviors. If needed, update them to be more mobile friendly — or develop mobile-friendly alternatives.
When optimally and appropriately leveraged, mobile commerce technologies will help you capture the new multichannel consumers, whether they're at home or at work, or shopping near — or in — one of your stores.
---
Carl Prindle
is president and CEO of
Blueport Commerce
, an e-commerce technology and services company that localizes big-ticket retail online.