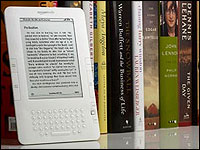 Amazon has announced a dramatic upswing in e-book sales. For the first half of 2010 it sold three times as many Kindle books as it did in the first half of 2009. For the full second quarter, it reported sales of 143 Kindle books for every 100 hardcover books sold. Over the past month, it sold 180 Kindle books for every 100 hardcover books.
Amazon did not provide specific sales numbers, or make comparisons with sales of its paperback books, although CEO Jeff Bezos did note that Kindle books have been selling for 33 months, while the site has been selling hardcover books for the past 15 years.
Turning Point
These numbers appear to mark a turning point in the industry: E-books are clearly on their way to becoming a mass market product, and consumers have accepted — indeed, embraced — this format.
More evidence is provided by recent publishers' book sales figures as tracked by the Association of American Publishers for the month of May: E-book sales grew 162.8 percent for the month (US$29.3 million), while year-to-date e-book sales were up 207.4 percent.
AAP's figures also show growth in hardcover book sales, although at a slower pace than those of e-books. The adult hardcover category was up 43.2 percent in May with sales of $138.5 million. Year-to-date sales were up by 21.7 percent.
Graphic artists who specialize in designing book covers are starting to feel the pinch, said David E. Johnson, CEO of Strategic Vision.
E-books are "changing the entire book industry — and jobs are going to be lost if they haven't started to already," Johnson told the E-Commerce Times.
Publishers have long counted on the publicity a book gets from its cover, he noted. Called the "subway effect," it refers to people becoming interested in buying a book because they notice others reading it in public places.
A number of factors are contributing to the growing popularity of e-books, noted Harlequin romance author Samantha Hunter.
"I think the accessibility of e-readers, the ease they offer consumers who may not be able to get to bookstores — or who have other limitations such as eyesight problems — and the lower prices on readers all contribute to rising e-book sales," Hunter told the E-Commerce Times.
Growth Drivers
The number of new devices entering the market — such as Barnes & Noble's Nook and Apple's iPad — have increased the visibility and accessibility of e-books, said James Brehm, a senior consultant in Frost & Sullivan's information and communication technology practice.
Yet Amazon's Kindle remains in a class by itself, he said.
"When people think of a generic e-reader, they think of the Kindle. The fact is, in the eyes of many people, the Kindle is representative of the e-reader and e-book market," Brehm pointed out, a fact that no doubt has fueled Amazon's e-book sales.
Further growth in this space is likely. Education, in particular, is a potentially lucrative market.
"I think as more students are able to buy their textbooks as e-books, at a much cheaper cost, it will ultimately result in a significantly lower cost of total education," observed Brehm.