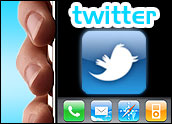 Twitter is ahead of its social networking competitor Facebook in mobile advertising revenue, but that lead could reverse given Facebook's recent ad initiatives, according to new research from eMarketer.
The study tallied U.S. mobile advertising revenue for major companies including the competing social networks, and offers projections for future revenue. Twitter is expected to bring in US$129.7 million in US mobile ad revenues in 2012. Facebook, which has more followers than Twitter but is in its first year of mobile ads, is expected to earn $72.7 million.
Google Still Leads
Neither social network can compete with Google, the leader in mobile ads, which brought in $1,423.1 million in mobile ad revenue for 2012. Google is expected to retain that lead through 2013, when eMarketer forecasts it will earn $3.6 billion on the year. Online streaming service Pandora and Apple also both gained more than Facebook in mobile ads on the year.
Neither Facebook nor Twitter responded to our request for comment on the story.
Growing Mobile Importance
That revenue is increasingly important for Internet companies that want to remain relevant in a market where smartphones and tablets are becoming a greater part of daily Web use, Anna Bager, vice president and general manager at IAB, told the E-Commerce Times.
"Both tablet and smartphone users show an impressive interest in mobile advertising," she said. "The key for marketers is looking at how consumers use these devices in different ways, and tailoring brand messages and strategies accordingly."
Twitter can't match Google, which has had much more time and a greater infrastructure to break into the mobile ad scene, but from a social media standpoint Twitter has made significant gains in the market, said Brian Wieser, analyst at Pivotal Research Group. The company uses promoted tweets, in which advertisers pay to have their messages appear in mobile users' feeds, helping it surpass Facebook in revenue.
The mobile user saturation is also much greater on Twitter than it is on Facebook, also contributing to its current lead, said Wieser.
"There is a disproportionate consumption for Twitter users with mobile," he told the E-Commerce Times. "If they didn't have mobile advertising revenue, they wouldn't have any."
Not Out of the Game
Facebook, on the other hand, still earns most of its advertising revenue from ads on desktop PCs, which worried investors during the social network's IPO process earlier this year. Facebook executives acknowledged the company is trying to increase its revenue via mobile advertising.
Since then, Facebook has made moves to increases its mobile ad presence. The company rolled out options for advertisers that would allow them to purchase ads that show up in users' News Feed in the company's app.
eMarketer predicted that by 2014, Facebook's mobile ad push will pay off. The company is expected to earn $629.4 million, compared to the $444.1 million that Twitter is expected to earn that year. That could help Facebook slide into the second place spot in earnings behind Google, the far-and-away leader in the field.
"Facebook is making some major pushes into the market," said Wieser. "That's going to mean hundreds of millions of dollars for the company, and that's pretty substantial. They're doing some big initiatives that we believe are really going to pay off."