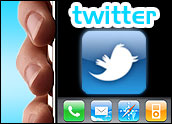 Twitter filed documents with the SEC for its initial public offering, giving investors a first glimpse of its financials on Thursday. Trading under the ticker symbol "TWTR," it aims to raise US$1 billion in its IPO.
Since its launch in 2006, Twitter has grown from a microblogging novelty to a social network with 215 million monthly active users, 100 million of whom are daily active users. They churn out more than 500 million tweets and direct messages per day. Seventy five percent of those users log on via a mobile device.
About 65 percent of Twitter's advertising revenue comes from mobile ads. That ad revenue helped spark rapid revenue growth — from $28.3 million in 2010 to $316.9 million in 2012. It brought in another $253.7 million during the first half of this year.
Twitter's expenses have also grown. It lost $69.3 million in the first six months of 2013, up 41 percent from a year earlier. The company has an accumulated deficit total of $418.6 million.
Going forward, Twitter expects a declining revenue growth rate, in part because of the gradual slowdown in its user growth rate.
Twitter did not respond to our request to comment for this story.
Smooth IPO Sailing
One of the most crucial elements in any public offering is pricing, said Justin Byers, lead business intelligence analyst at VCExperts.
"This IPO will be interesting," he told the E-Commerce Times. "As always, pricing will be a key factor, and we may see it somewhere in the $21 to $23 per share range."
In order to justify that price range, Twitter is going to have to sell its strengths to investors. The company already has one advantage, said Thomas Bibby Varghese, CEO and founder of eBizUniverse.
One of Facebook's immediate challenges following its notoriously botched IPO last year was to develop a convincing mobile strategy.
"Twitter's greatest strength is how they have monetized their mobile user base," Varghese told the E-Commerce Times. "Sixty-five percent of their users are mobile, and Facebook could take a lesson from Twitter on how to monetize mobile users. Twitter's ad sales numbers are only going to go up as the holiday season nears, which is when advertisers spend their most money."
Global Revenue Growth Challenge
One of Twitter's bigger challenges going forward — both in terms of courting investors and executing a business plan — will be goosing growth on a global scale, said Brian Wieser, an analyst at Pivotal Research Group.
Twitter's SEC filing revealed that 75 percent of its revenue comes from the U.S., although three-quarters of the company's monthly users are outside of the States.
"International revenues are a key source of growth, and all the more notable especially as most international sales were only launched recently," Wieser told the E-Commerce Times. "However, sustained growth faces some different challenges than it might face at home."
However, that's a common issue for social networks, noted Varghese, and it shouldn't stop Twitter from doing well once it is out of the gate on the public market.
"Overall, Twitter is in good shape, and the valuation seems in relation to their popularity," he noted. "Their IPO will do well, and I believe it will have many takers. Twitter's IPO is the hottest IPO right now."