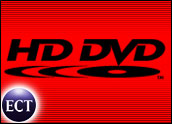 High-definition video enthusiasts are going to be looking at a Blu-ray world.
That outlook was assured Tuesday when Toshiba officially backed away from the HD DVD format against Sony's heavily fortified Blu-ray technology.
The Blu-ray format had gathered momentum in recent months, having won over a number of major film studios, including Warner Bros., Walt Disney and 20th Century Fox, in addition to its own Sony Pictures.
Sony shares were up nearly 4 percent in the wake of the announcement, trading at US$46.50 midday on the New York Stock Exchange. The stock had a year's range of $42.73 to $59.84.
Retailers' Choice Was Big Blow
Friday's announcement that global retail regnant Wal-Mart and electronics retail giant Best Buy had cast their lots with Blu-ray over HD DVD appeared to signal the end of the format war.
"There's a lot of reasons why HD DVD could have won, but Sony basically won the studios and they won the vote," Jack Gold, founder and principal analyst of J. Gold Associates, told the E-Commerce Times. "Toshiba had been doing reasonably well with the technology, but that doesn't do a lot of good if the studios aren't going to put out movies in your format. Sadly, for Toshiba, the battle is over. It's going to be a Blu-ray world going forward."
The retailers backing Blu-ray was the deal breaker for Toshiba, said IDC analyst Elizabeth Curtis. "The Warner Bros. announcement was the beginning of the end, but Best Buy and Wal-Mart backing up Blu-ray was the nail in the coffin, so to speak. Toshiba couldn't compete in that scenario, and once retailers went to the Blu-ray side, there's not much you can do."
Stepping Out Quickly
Toshiba doesn't want to drag out its decision longer than necessary, it said.
"While we are disappointed for the company and — more importantly — for the consumer, the real mass market opportunity for high-definition content remains untapped, and Toshiba is both able and determined to use our talent, technology and intellectual property to make digital convergence a reality," noted Toshiba President and CEO Atsutoshi Nishida.
Toshiba's quick exit was prudent, Curtis commented. "They put a lot of time and money into it, and it's unfortunate they stepped out. But I think everybody appreciates that they stepped out gracefully and quickly, instead of having some long, drawn-out thing."
However, the move doesn't mean Toshiba is exiting the DVD business, as the company will continue to manufacture players for standard formats.
"I'm sure they will [continue producing DVD players]," Curtis told the E-Commerce Times. "They're still making money on that."
Consumers who went with the HD DVD format likely will be frustrated, but there aren't a lot of them out there, Kurt Scherf an analyst with Parks Associates, told the E-Commerce Times.
"The good news is [that] sales of the high-def players including HD-DVD were sluggish and [only] 1 percent of consumers will be affected," he said, adding that Toshiba had reported sales of only about 600,000 HD DVD units in North America.
Erasing Betamax Memory
For Sony, the victory likely serves as a sort of redemption after the company's Betamax lost out to VHS in the fight for videocassette format supremacy in the early 1980s.
However, Sony still has plenty of work to do in selling consumers on Blu-ray discs, Curtis noted. "Sony still has an uphill battle there, getting the consumer to embrace this next-generation technology. The price point needs to come down."
Prices will likely drop, she added. "I think Sony is going to continue to look at that, especially with new distribution methods becoming more viable. And as more options become available, they'll understand they need to drop prices and push the format more aggressively."
The product is compelling, and it's Sony's job to make more consumers aware of it, Curtis continued. "Consumers will see the difference, once they get it home. But, getting it into the home is going to be the problem."
Many consumers likely were waiting for a winner to emerge before choosing between the two formats, Phil Leigh, senior analyst with Inside Digital Media, told the E-Commerce Times. "Consumers were sitting on the sidelines and, therefore, the growth of the market was retarded. Now, I think you'll see an acceleration in the growth."
Don't Look for Immediate Blu-ray Growth
However, there won't be any "explosive" growth, Leigh noted. "Unless you have a really big screen, you won't see the difference. I know the people that seem to notice it the most are the people that have home theaters."
Scherf agreed. "You have to ask how much of the reluctance to purchase was built entirely around the price without confusion over the formats. I'd say it was the uncertainty more than anything else that was holding back consumers."
Manufacturers will indeed lower prices on Blu-ray systems now that the uncertainty is gone, Scherf said. "Now that it's lifted, if I'm a Blu-ray manufacturer, I can definitely gamble on lowering the price point to get volumes up. This has really primed the pump for the channel to get it moving."
The mandated switch to digital broadcasting early next year likely will serve as another stimulus to sales, especially with the holiday sales period, the Super Bowl and the changeover taking place in rapid-fire order, he added.
"Watch for some crazy sales during that time," Scherf said.