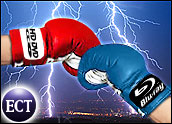 With significant recent defections threatening to make what was expected to be a close and ongoing battle for next-generation DVD supremacy a rout in favor of Sony's Blu-ray format, Toshiba is reportedly close to pulling the plug on HD DVD.
Toshiba has already made the decision to stop pushing the HD DVD technology and will soon make that decision public, according to The Hollywood Reporter.
That announcement could come in a matter of weeks, the publication said, citing unnamed industry sources, and would leave Blu-ray as the lone standard for high-definition DVD content and players. The move would be a blow not only to Toshiba but also for key partners, including Microsoft — which has offered a version of the Xbox 360 with an HD DVD player — and Intel.
Wal-Mart Goes for Blu-ray
Though they reached market at about the same time, Blu-ray has had far more success in attracting partners in Hollywood and among device makers.
A huge blow came in January when Warner Home Video said it will no longer put out content in both formats and will support only Blu-ray starting later this year. That left Blu-ray with five major movie studios behind it, compared with just two for HD DVD.
Toshiba responded with a round of steep price cuts on its HD DVD players, slashing base prices by as much as 50 percent, and a high-profile Super Bowl advertising buy in a bid to light a fire under market demand.
On Friday, however, Wal-Mart continued the Blu-ray rout of HD DVD, saying it would carry only Blu-ray players in its stores.
Going, Going, Gone?
Toshiba did not respond to an e-mail seeking comment on the reports. The company has repeatedly said it is evaluating the market situation, which has gone from bad to worse in recent months. In February, for instance, online movie rental site Netflix said it will stock only Blu-ray movies.
Toshiba has also pointed to data showing standalone HD DVD players were outselling Blu-ray devices in key markets, including North America. However, those sales figures did not include the impact of the Sony PlayStation 3, which includes a built-in Blu-ray player.
In addition, though they remain a relatively tiny fraction of overall DVD sales and rentals, Blu-ray discs were proving far more popular than their HD DVD counterparts, even in cases where movies were available in both formats. Eighty-one percent of high-definition DVD sales have been in Blu-ray format, according to recent data from NPD Group.
Toshiba may be holding out hope that price cuts will generate enough demand that studios would be convinced to add or keep HD DVD on the menu, In-Stat Analyst Brian O'Rourke told the E-Commerce Times.
"If they can point to a critical mass of players going out the door, that would be a market the studios could sell to," he said. "But the price cuts also smacked of desperation."
Sony had also used its market power to build momentum for Blu-ray to great effect, he noted, likely taking a substantial loss on PS3s in order to get the players into the pipeline and also using its own Hollywood studio to get Blu-ray titles into the market quickly.
Confident Consumers
Whether Toshiba actually pulls the plug on its machines, the increasing dominance of Blu-ray could help unlock the market for high-definition players and movies, said Gartner analyst Mike McGuire, and make the devices a big seller in the holiday season at the end of the year.
"Consumers don't like facing the reality of competing technologies," McGuire told the E-Commerce Times. "No one wants to end up on the short end of that stick when all is said and done, so a clear choice could unlock some demand."
As in the past, the best technology doesn't always win out, though the difference in the quality of the two approaches was widely seen as being negligible by consumer standards, he added.
"It's more about partnering and finding the right path to the marketplace," McGuire said. "Once a front-runner emerges, it tends to build its own momentum."