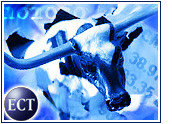 If you just passed on buying a new computer, join the club. First-quarter PC sales figures from Gartner and IDC suggest the market grew just 4 percent in terms of units sold compared with the year-ago period — nowhere near the double-digit gains of the go-go 1990s. As many IT shops sat on their hands, PC makers felt the heat: Hewlett-Packard saw analysts' 2003 earnings estimates revised downward by 2 U.S. cents, to $1.18 per share, on concerns that computer sales will remain sluggish in the near future. Not all companies are sweating, however. HP's stock price seems stalled at $16, but IBM's is sailing along at $86.
What is the secret of IBM's success in a tough economic climate? While the computer market has fallen apart in the last two years, CEO Sam Palmisano has made Big Blue into the un-PC company. By focusing on storage systems, chip-making and, above all, software and services, IBM has gone where the market's strength is and, where possible, has created entire industries of its own.
We'll Build a Railroad
That is not to say everything is rosy at IBM. Servers, PCs, mainframes and printers account for about $24 billion of IBM's $80 billion or so in revenue each year, and last year gross margins on those sales declined 3 percent while sales fell 10 percent. IBM has consciously moved away from this part of its business.
Instead, the company has spent the last several years transforming itself into a software and services conglomerate whose modus operandi is to build it all for companies. In contrast to the slide of its computer business, IBM's services division grew 4 percent last year and may post a double-digit increase this year, analysts say. Software and services together now account for 60 percent of revenues and 80 percent of profits at the company. Services alone totaled 50 percent of revenues in the quarter just ended.
Last year, IBM purchased the consulting operations of PricewaterhouseCoopers in a bid to capture additional accounts. Since then, Big Blue has been winning back accounts PwC had lost, according to Merrill Lynch. In the fiscal fourth quarter of 2002, IBM Global Services had its second-best quarter ever, winning $18 billion in new service contracts.
IBM has been boosting its software arsenal, too, with the acquisition last year of programming tools vendor Rational Software for $2.1 billion. Remember how IBM sold the heck out of Lotus Notes?
The company's nearest threat in the services sector may be Hewlett-Packard, which has both the technology and the deep customer base required to challenge IBM in the market for large enterprise business. However, Merrill Lynch hardware analyst Steve Milunovich wrote in a recent note that "HP probably can't match the stringent financial and legal reviews that IBM's ten years of outsourcing experience have produced." In other words, IBM may have a better business model.
IBM Inside
In addition to the Global Services powerhouse, IBM's chip operation ranks among the most formidable semiconductor shops on the planet. IBM Microelectronics accounts for just about all of the Technology segment of IBM, which itself accounts for a little less than 20 percent of IBM's roughly $27 billion in annual total hardware sales (the rest is largely servers and printers).
This division is responsible for the manufacture of a huge array of chips that power devices ranging from Juniper Networks routers to Nvidia graphics cards to the forthcoming Sony Playstation 3. The custom circuits (ASICs) group is first in the world, with about $3 billion in annual sales. IBM is also the third largest manufacturing facility for companies without foundries of their own, bested only by two Taiwanese giants that have focused exclusively on the foundry business, Taiwan Semiconductor and Chartered Semiconductor.
Big Blue has taken steps to streamline the division, which was losing money a year ago. Last fall, for example, the company fired 1,500 people and took an inventory writedown to rid itself of older chip-making technology. Sumit Sadana, director of strategy at Microelectronics, told the E-Commerce Times that the company will focus on cutting-edge technology in areas where its investment in leading tools and chip-making processes will give it an edge. IBM claims a lead in making chips from a semiconductor compound called silicon germanium, which can enable inexpensive computing devices to compete with wireless chips based on a more expensive technology called Gallium Arsenic, commonly developed by such vendors as Vitesse Semiconductor.
IBM also is moving production to 300-millimeter wafers, which should improve the efficiency of its chip-making processes while enabling greater complexity in both its PowerPC parts and the chips it makes for customers. Clients will have access to circuitry at 130 and 90 nanometers, with technology called silicon-on-insulator, which improves power effiency in embedded chips. "We'll compete in those areas of the foundry and ASIC business where our unique technology gives us an edge," said Sadana.
The Storage Folks
Of course, another way to win contracts, as always, is to own the data. In the past, IBM made the machines that ran the tapes on which huge volumes of corporate information were stored. These days, Big Blue is focusing on storage networking infrastructure that can extract and safeguard all those terabytes of data. Storage products, along with networking gear, account for roughly $2 billion per year in revenue at the company. IBM jettisoned its low-margin disk drive business last year, handing it over to Hitachi. As with the chip business, the company is focusing on the high-margin, cutting-edge aspects of building storage networks.
"IBM has had a lot of firsts in the field," said Dan Tanner, formerly a storage analyst with Aberdeen Group and now a vice president at KOM Networks, a storage software startup. "They were the first to bring out an iSCSI-based SAN product and one of the first to introduced a NAS head," he told the E-Commerce Times. iSCSI is a next-generation protocol for transmitting disk drive requests over local area networks, while NAS heads can bridge network-attached storage systems and fibre channel-based SANs. Tanner said he is ebullient about IBM's upcoming "storage tank," an autonomic computing effort intended to automate some aspects of SAN management and simplify backups.
IBM no doubt is hoping that in its bid to dethrone storage leader EMC and keep Sun Microsystems and HP at bay, its deep pockets will help it win many accounts. It may be right. Many analysts suggest that the complexity of building SANs means CIOs are looking for a single vendor to tie it all together.
Mere Details
At the end of the day, there are challenges, to be sure. The PwC integration is not done yet. Microelectronics will have to prove it is a more efficient business unit this year. And SCO recently filed suit against Big Blue for breach of contract. Some years ago, IBM licensed code from SCO for various file formats in Unix. SCO now is alleging that IBM has sent those trade secrets out the door by incorporating the file formats into Linux as part of IBM's ongoing development of the open source operating system. If SCO prevails, it could materially impact IBM's earnings by effectively halting IBM's enterprise Unix sales.
For the moment, however, the momentum generated by IBM's first-tier position in chips and services and its cutting-edge technology in developing areas, such as storage networking, assures the company some wiggle room to work out the rough spots without drastically deflating its stock price. IBM has proved it can adapt, and in tough economic times, that is more than half the battle.