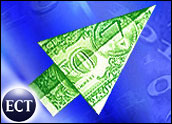 Providing a potential shot in the arm to the technology sector as earnings season heats up, IBM has reported a relatively strong first quarter, saying two major acquisitions and cost-cutting initiatives undertaken last year have begun to help boost revenue.
The company posted net earnings of US$1.38 billion, missing per-share estimates by a penny. But there was some good news, too: Revenue at Big Blue rose 11 percent over 2002 levels to $20.07 billion.
IBMs services division powered those gains. Bolstered by the October acquisition of PricewaterhouseCoopers' consulting business, IBM said services revenue grew 24 percent and remains a bright spot going forward.
The company also said it finalized $12 billion worth of long-term service and outsourcing deals in the first quarter, boosting the backlog of services work to be completed to $113 billion.
Weakness Seen
But although Armonk, New York-based IBM said it remains on track to meet estimates for full-year revenue of approximately $88 billion, executives sounded a note of caution.
"We saw some customer deferrals of IT decisions," CFO John Joyce said in a conference call, noting that those moves hampered what could have been stronger growth.
Comforting Presence
Although IBM has taken a battering during the downturn, cutting some 15,000 jobs since 2001, the technology slump also has helped it and other brand-name companies. In general, large companies have benefited from customers' desire to deal with reputable firms that they know will be around in the future, Giga Information Group research fellow Mike Gilpin told the E-Commerce Times.
"Working with IBM gives an enterprise a sense of confidence," Gilpin said. "That's true of their technology, and they've successfully extended that to their services business as well."
In fact, IBM CEO Samuel J. Palmisano cited market gains "across our strategic businesses" during the first quarter.
Sphere of Influence
On the software side, IBM got a boost from its purchase of Rational Software. The $2.1 billion acquisition, which closed in February, helped the company gain market share in the database management arena, Palmisano said. Overall, software sales were up 8 percent year-over-year to $3.1 billion.
Although sales in IBM's Tivoli and Lotus lines fell, middleware offerings, such as the WebSphere and DB2 platforms, performed even better, with WebSphere sales up 14 percent.
But like other companies, even IBM saw weakness in the hardware area. Sales to original equipment manufacturers (OEMs) declined 15 percent while total hardware revenue slipped 1 percent worldwide to $5.8 billion.
Shares of IBM were up about 2 percent to $80.07 in early trading Tuesday.
Big Blue was one of its own best customers for stock in the first quarter, buying back some $65 million of its shares.