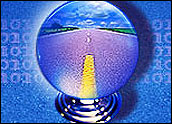 It's possible, though anything but likely, that the Cubs and the Red Sox could meet in baseball's World Series this year. Even casual fans know the significance of such an event — together, the teams have gone a combined 180 years without winning a World Series.
The possibility of such an unlikely matchup has stirred up a storm of jokes, the most common being that because it's all but impossible to imagine either of the lovable losers actually winning, a seventh game will continue on into eternity.
But it's also a good excuse to speculate about other possibilities — or what were heretofore thought to be impossibilities. If anything is truly possible, why not some of these things?
The Big Bang
Because Microsoft seems to be in a settling mood, how about if the software Goliath just decided to lay down its arms and stop fighting? Microsoft could make one final grand gesture, selling off its patent portfolio and its licensing rights via lottery for a dollar. Better yet, it could declare its software the new open source, throwing it wide open for everyone to use, modify and just plain have fun with.
Why not? It would still take a couple of years for Bill Gates and the other Microsoft billionaires to fade from the list of the world's richest people. And the goodwill would be impossible to measure. Other benefits would include the thousands of hours of free time that countless lawyers would have on their hands — time they could use to provide pro bono legal services to the underprivileged, of course.
Billion-Dollar Bingo
The next day, IBM might decide it's had enough of the legal wrangling as well. It could choose to get out the abacus and figure out how much it should pay the people at SCO to settle that pesky multibillion-dollar lawsuit.
But SCO would catch the bug as well. Shortly after taking delivery of the truckload of IBM cash, it would turn around and give it to the open-source community to foster further development of Linux and other software that's as free as the wind. Software developers, in turn, would be so smitten by this new era of cooperation that they would donate much of their money to worthy causes — yes, even those that don't involve software.
Friends Forever
The fighting would stop elsewhere too. Oracle CEO Larry Ellison would be seen carrying a fruit basket into PeopleSoft headquarters and then would not emerge for hours.
When he finally did, he would be carried out like a hero and would announce his decision to let PeopleSoft have the Oracle business line for free. Stepping to the bank of microphones, he would say the deal was sealed with a pair of tickets to the World Series. "It turns out, we're all Cubs and Red Sox fans," he'd say. "I wish we had talked about this a long time ago."
Free for All
The final sign that things have truly changed forever would come as record labels gathered together to announce that from now on, all music ever made would be available for free download online.
Music company CEOs would shred lawsuits and toss the confetti into the air in celebration. One by one, they would admit that they have been burning CDs of stolen music since way back in the days of the original Napster.
Okay, so many of these scenarios are a bit far-fetched. Then again, if anything is possible, why not these?
---
Note:
The opinions expressed by our columnists are their own and do not necessarily reflect the views of the E-Commerce Times or its management.
---