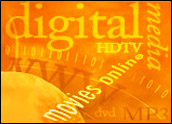 While television remains the most popular consumer device for viewing video content, it's fast falling before the march of alternatives, according to a report released Thursday by Deloitte.
About half (49 percent) of U.S. consumers want the freedom to view their content on any platform they choose — be it television, media center software, smartphone, or PC, concludes Deloitte in "State of the Media Democracy."
Platform portability is doubly important to advertisers, because advertising on television shows remains the most influential across all age groups surveyed. However, for the first time, online advertising has jumped into a tie for second place in the influence arena.
Consumers now rate it on par with magazine advertising, based on a survey of over 2,000 consumers from September 17 through October 20, 2008, Charles Zinkowski, Deloitte spokesperson, told the E-Commerce Times.
To View Ads or Not
Segmentation by generation continues to be a big factor in media consumption, according to the report. For example, 53 percent of consumers in the Baby Boomer generation (ages 43 to 61) ranked newspaper advertising as most influential, while only 32 percent of Generation X survey participants (ages 26 to 42) placed the same weight on newspapers.
Interestingly, those Gen X'ers are just as likely to access newspaper content online as in print editions, putting advertisers in a dilemma when it comes to choosing a channel. The same goes for consumers' tendency to bypass advertising when they can.
While Gen X'ers continue to drive the demand for DVR devices, they use them primarily to time-shift their shows rather than to bypass the ads, according to the survey's findings. However, fast-forwarding through ads is a close second among the top reasons consumers in this important demographic use their DVRs.
These facts place a big burden on advertisers, according to Ed Moran, Deloitte director of product innovation. Saying companies choosing advertising platforms are in both the best of times and the worst, he noted that the marked preference for digital media among younger people is a worldwide, not just U.S., trend.
Live Mobile or Die
Perhaps the biggest trend reflected in the survey findings, not surprisingly, is the rise of the mobile phone as an entertainment device. Over half of those in the Millennial generation (ages 14 to 25) view their mobile phones as sources of entertainment content. That's compared to 32 percent of consumers overall. In the U.S., 20 percent of consumers even use their mobile devices to view long-format video, including television shows and movies.
Another trend driven by the Millennial generation is Internet access to video content, perhaps most notably, movies. A whopping 67 percent of Millennials watch movies online. Members of this generation also are much more receptive to user-generated content such as blogs. A vast majority of them (81 percent) view such content, compared to 66 percent of consumers overall.
I Want My MTV
As advertisers look to optimize increasingly tight budget dollars, they must keep in mind that Baby Boomers and older Americans remain the ones with discretionary income, according to Ken August, Deloitte vice chairman and U.S. media and entertainment leader.
Thus, while Gen X'ers and Millennials may be driving the technology of Web 3.0, they may not be driving with their wallets. Interestingly, though, trends seem to be moving upward in generations as well as downward. Boomers and retired adults, for instance, have begun to accept online and device-based gaming as credible home-based activities, according to the Deloitte findings.
What seems clear is the fact that consumers in all groups are chafing at the prospect of being forced to stay on a particular platform to use a particular type of content. A significant majority (60 percent) of respondents indicated that they would like to be able to easily integrate their televisions with their computers.