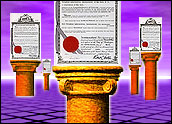 Last Friday — essentially the eleventh hour of a years-long lawsuit — Research In Motion reached a US$612.5 million settlement withNTP, relieving legions of customers who have come to feel they cannot possibly last very long without their BlackBerries.
In this suit, NTP successfully challenged RIM's use of its intellectual property (IP). RIM appealed it all the way to the Supreme Court only to be turned down. With the settlement, U.S. District Judge James Spencer has dismissed the case.
The larger issues the battle illuminated, though, are still quite alive. In short, epic lawsuits against BlackBerry, Linux and other technologies have demonstrated the dangers of becoming overly reliant on technologies whose intellectual property rights are not locked down.
Now that the RIM-NTP case is moving out of the limelight, what are some of the other technologies that could pose hidden dangers for the companies that use them?
Prospecting for Patent Claims
The answer, it turns out, is not pretty. Similar suits are likely to proliferate over the next few years with technologies as ubiquitous as shopping carts and as vague as an order fulfillment business process potentially at risk.
In part, this is because patent litigation has become quite lucrative for law firms, Paul Bangor, an IP lawyer and partner with Law firm Thorp Reed & Armstrong, told the E-Commerce Times. Another problem is that there have been so many patents filed in recent years, it can be difficult to clear a product with any certainty, he said.
Patent litigation is also on the rise because potential plaintiffs are increasingly seeing other companies' patents as gold mines.
"You have millions of patents out there that people are now sifting through, buying those that are believed to be valuable or will be valuable at some point."
Big companies, it follows, become big targets, Bangor said.
Patenting a Process
The main driver of the growing trend toward patent litigation is the fact that the very concept of intellectual property has broadened to include business processes and other similarly amorphous concepts.
"Today, the courts are being asked to apply outdated patent criteria to new technology, making decisions where there really are no clear guidelines," Rich Koch, vice president of marketing for Apresta, the wireless division of Saratoga Systems, told the E-Commerce Times.
The ripest targets are very large companies that have come to dominate their particular industry through the innovative use of technology. Amazon, no stranger to lawsuits, is just one example.
"Many companies with large warehouses have been getting into patents," Doug Bridges, an associate at Alston & Bird told the E-Commerce Times. "The business world runs on efficient warehousing and package delivery, and it could be extremely impacted by patents in this space."
Unclear Status
Indeed, there are technologies for which IP ownership may still be up for grabs even though it seems the issue should have been settled for them long ago. The Electronic Frontier Foundation (EFF) has identified several seemingly broad patents that could be vulnerable to challenges. If successful, they could threaten the free use of some basic e-commerce technologies, according to Ryan Koppelman, an associate at Alston & Bird.
These include one-click online shopping, online shopping carts, the hyperlink, video streaming, internationalizing domain names, pop-up windows, targeted banner ads, paying with a credit card online, framed browsing, and affiliate linking. "The status of some of these patents is not clear, but they still pose a significant risk for many companies, given the widespread use of many of these technologies," Koppelman told the E-Commerce Times.
"There were a lot of B2B (business to business) companies that went under during the dot-com boom who likely have patents in this space," Bridges observed.
Even frivolous — and, frankly, clearly absurd — practices may lead to wrangling over IP rights.
"I saw a story [recently] about a couple who had chips embedded under their skin to allow access to apartments, cars, etc.," Jeff Young, a partner at Alston & Bird told the E-Commerce Times. "The business applications are huge, and the IP implications are already a major concern.
"Now that business methods are patentable, it's dangerous to copy them as has been the practice in many industries," he added.
Software Configurations a Target
Taken to extremes, the way some software applications are configured — software that has been licensed, no less — can open up new vulnerabilities for firms, Bridges speculated.
Consider enterprise resource planning applications, he said. They are "designed to be customized to fit within an enterprise's existing infrastructure. As such, ERP software could be vulnerable to many different types of software patents depending on how the ERP software is configured."
Streaming media is also quite vulnerable to a RIM-like patent dispute, Bridges continued. A struggle at this level might not have the same impact that a challenge to an ERP configuration would have — however, it could still sting.
"While companies are not as dependent upon streaming audio and video, many do use it for in-house training and other purposes," he pointed out.
On Feb. 10, 2006, AT&T accused Apple and others of violating patents that it claims cover the MPEG4 standard, Bridges noted. "Many companies have adopted the MPEG4 standard to compress audio and video, including Apple with its QuickTime product."
Is another patent war in the making?