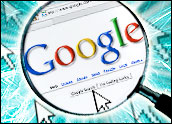 For the second time in as many weeks, Google caused its own stock to fall, with shares sent lower this time by the search company's admission that it inadvertently posted financial projections on the Web before pulling them back.
Google shares were down as much as US$10 or about 3 percent to $353.56 in morning trading Wednesday, a day after the company admitted that for a short time, notes that were being prepared for a meeting with analysts included financial projections about ad revenue.
SEC Notified
The inadvertent disclosure, which was noted on some blogs and Web sites, was confirmed by Google in a filing with the Securities and Exchange Commission (SEC) on Tuesday.
The filing said presentation slides were posted as part of an analyst day Webcast on March 2 and that notes prepared for another, internal event were mistakenly included.
Google has made it a policy not to offer forward-looking financial guidance or forecasts, something that has frustrated some analysts and investors and has caused sharp volatility in Google shares whenever news is released.
The gaffe was the second self-inflicted wound from Google in as many weeks, following on the heels of Chief Financial Officer George Reyes' comments in a question-and-answer session suggesting slowing revenue growth. Reyes' words prompted a sharp sell-off and Google was forced to issue a statement aimed at "clarifying" what the executive said.
"There's been too many of these lately," said search engine expert and Google book author John Battelle.
Costly Gaffes
The blunders, and a miss on analyst forecasts for profit in the fourth quarter, have taken a significant bite out of Google's market capitalization. Shares traded for as much as $475 as recently as two months ago.
Google may have tipped its hand on other future product plans in much the same way, with bloggers finding evidence online that Google plans to move toward a scheme where the vast majority of a users' data is stored on Google servers, with home-based PCs becoming "thin client" interfaces where only temporary caches of information are kept.
The service, dubbed GDrive, was initially meant to be part of CEO Eric Schmidt's analyst day presentation, but those comments were later edited out, only to be spotted online before they were removed.
The financial blunder is seen as far more significant, however, given Google's policy against projections.
In its filing, Google said the notes posted included statements such as: "Our ads business for the moment is healthy and growing and we're on a strong trajectory."
The notes also said that strong competitors are attempting to aggregate traffic with the result that AdSense margins will be "squeezed in 2006 and beyond."
"To really get down to brass tacks, we're going to: Execute well on our core ads projects to help us exceed the $9.5 billion target (and backfill any AdSense partner loss) and drive advertiser satisfaction," the notes read.
There were also comments about stock-based compensation estimates which Google said were "materially accurate."
"Consistent with past practice, Google is not providing revenue guidance," Google said in the filing. "In addition, the statement with respect to AdSense margins does not reflect Google's current expectations."
Not Evil Doers
Meanwhile, Google finds itself having to answer questions about why it can't better control the flow of information. Some say it has to do with the anti-corporate, independent spirit of the firm, which just a few years ago was a startup that was the darling of the tech industry.
Today, however, Google finds itself under enormous scrutiny, a function of its sky-high stock price and its position at the top of the online search business, a position that many key competitors, including Microsoft, hope to topple it from.
Some analysts, meanwhile, were quick to pounce on the morsels of guidance Google let slip.
RBC Capital analyst Jordan Rohan said in a research note that the estimates posted online, which likely pre-date the finalization of Google's extended pact to deliver results to AOL, match his 2006 estimates of just under $10 billion in revenue.
Still, Rohan joined the chorus of those who want to see Google fall in line with other public companies in helping guide analysts and investors more openly.
"We believe Google management is creating unnecessary volatility by refusing to issue financial targets," he wrote.
Echoing the search company's now famous "do no evil" motto, he added: "Issuing guidance is not evil."