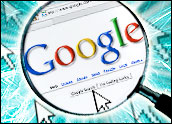 A day after Google shares plummeted for the third time in about a month, wiping out around US$13 billion in market value in the process, investors and analysts turned their attention to evaluating the future of the search industry as a whole.
Google shares lost some 7 percent on Tuesday after Chief Financial Officer George Reyes told an investor conference that slower growth rates are likely in Google's future.
"Most of what's left is just organic growth, which means you have to find ways to grow your traffic," Reyes said. "Clearly, our growth rates are slowing, and you see that each and every quarter.
Reality or Overreaction?
Google's rapid rise — from annual revenue of $440 million in 2002 to $6.1 billion in 2005 — will be difficult to sustain, the CFO said, noting, "We are getting to the point where the law of large numbers starts to take root."
While investors rushed to sell Google shares, reaction in the analyst community is split.
One take is that Reyes simply stated the obvious: that Google has gotten too big to keep growing like a startup.
On the other hand, the fact that Google has a policy of not offering specific forward-looking financial guidance could mean that comments like those Reyes made are amplified, and cause the type of knee-jerk reaction that has taken more than $100 per share out of Google's stock price since its recent peak of $475.
Still another view is that the drop made for a buying opportunity for investors who believe Google will continue to dominate the still-growing paid search marketplace. Google shares made back some lost ground in midday trading Wednesday, rising $2.81 or just under a percentage point, $365.43.
Wall Street has become an increasingly volatile place for Google in recent weeks. Last month, a Barron's article cited numerous risks for slower growth that could cost the shares as much as half their value. It also took a hit when it reported earnings, posting its first ever miss of analyst projections for earnings.
Cloudy Outlook
In fact, Google has found itself running up against obstacles off Wall Street as well, butting heads with some members of Congress over its role in China, where it has agreed to some censorship of free speech in exchange for the right to operate in one of the world's fastest-growing economic climates.
It also faces heightened competition, with IAC/Interactive this week re-launching its search engine under the Ask.com brand and Microsoft's MSN Search just a few weeks away from launching its own version of the self-service paid ad program that Yahoo and Google already have in place.
Reyes' comments also came as analysts are preparing to meet with Google on Thursday, and likely mean executives who appear at that event, which will be webcast, will face significantly tougher questions.
The CFO's comments suggest the search giant will aggressively tackle several areas, Kelsey Group Managing Director Greg Sterling said, including new advertising formats, such as display ads and pay-per-call advertising aimed at small businesses; more attention in its enterprise unit on small and mid-sized companies; and a bigger push into offline advertising, which it has dabbled in through its display ads in technology magazines.
"Unfortunate as slowing growth is for Google, it will make life much more interesting than it has been — as Google takes some more 'risks' and other companies are forced to react," Sterling said.
Off the Reservation?
Search engine marketing expert and Google book author John Battelle noted that Google felt compelled to clarify Reyes' comments — which came during an unscripted question-and-answer session — with a statement pointing out that Google has long called for slower growth as it matures.
Reyes has made comments that Google has sought to distance itself from in the past as well, saying late in 2004 that click fraud was a major threat to Google's business, Battelle told the E-Commerce Times. The search giant has since downplayed the risk of click fraud.
Piper Jaffray analyst Safa Rashtchy, who believes Google shares will hit $600 within a year, said investors overlooked the more upbeat portions of Reyes' comments and that Google understands the challenge it faces to diversify its revenue stream.
"The CFO's comments that they are going to have to find other ways to monetize the business should be taken positively, as we believe that this indicates that Google will aggressively purse other revenue streams," Rashtchy wrote in a research note.
Merrill Lynch analyst Lauren Rich Fine was also not deterred by the comments. Google believes gains from its Google Base project and its video search positioning will help replace growth lost from the maturation of the search marketplace, she wrote.
Certainly, Google cannot be accused of failing to seek out growth markets and ways to boost its business. It has rolled out innumerable features, enhancements and additional products in the past year, from enterprise-facing search appliances and corporate e-mail to toolbars and other search add-ons aimed at consumers.