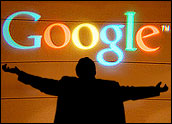 The U.S. Justice Department is arguing that Google's privacy concerns are not reason enough for it to withhold search records being sought by investigators, likely setting the stage for a court battle over the data.
In a court filing made late Friday, the Bush administration said because individual users would not be identified in the records being sought, the privacy concerns are not valid. The argument, contained in an 18-page brief, comes after Google initially rebuffed the government's demands to turn over the records of search requests by citing potential violation of individual users' privacy rights.
Defying the Government
The administration wants the records to bolster its arguments in favor of an online child protection law that the U.S. Supreme Court has blocked from taking effect. The Justice Department hopes to use the data to show that existing Web filtering technology cannot prevent children from viewing pornography and other inappropriate material.
The government's filing included an affidavit from University of California at Berkeley statistics professor Philip B. Stark, who said the privacy concerns are misplaced, especially given that the original request called for Google to strip any identifying information.
The search company, which was first served the subpoena seeking the records last summer, has said in court filings that the request is "unnecessary, overly broad, would be onerous to comply with, would jeopardize its trade secrets and could expose identifying information about its users."
In fact, Google now finds itself taking an adversarial role with the U.S. government on a number of fronts. The most high-profile and volatile appears to be the dispute over Google's role in China, where the search company is one of several that has agreed to Chinese government rules on free speech limitations in order to win the right to do business, a move that has drawn considerable flack from U.S. lawmakers.
A judge will likely make a ruling on the Justice Department's subpoena soon, with a hearing tentatively scheduled for March 13.
Principles or Public Relations?
Google is widely seen as enjoying public support in the privacy debate, but public opinion may be more divided than in the past.
A survey conducted by the University of Connecticut and released last week found that some 60 percent opposed allowing Google and other search engines to store user search queries, with 32 percent backing that practice, which the companies say helps them improve the accuracy of search results.
In the telephone survey of some 800 people, 65 percent said the government should have no role in monitoring the online activities of "ordinary Americans," with just 30 percent saying such eavesdropping was appropriate or necessary.
Still, the support for Google's stance seems to wane slightly when it comes to the issue of complying with the government's subpoena, with 44 percent saying the records being sought should be turned over while half back Google's refusal to cooperate.
Legal experts, meanwhile, say the case is important because of the potential for setting precedent and the so-called slippery slope effect, in which records of an increasingly private nature are sought by the government or even by individuals.
Distraction Factor?
Google's stance is seen by many as having a positive public relations impact, especially given that it can contrast its refusal to turn over records with the cooperation shown by its rivals.
"Even if it's forced to comply in the end, Google can point to how it tried to stand up for its users' privacy," search engine marketing expert John Battelle told the E-Commerce Times. He noted that the move seemed to fit with Google's "Do No Evil" catchphrase.
Meanwhile, the standoff with Justice could come at a critical time, as Google faces increasingly intense competitive pressure. On Monday, Barry Diller's IAC/Interactive Corp. re-launched its Ask.com Web site, creating a new interface and brand image for the search tool originally known as Ask Jeeves.
Standard & Poor's Equity Research analyst Scott Kessler said Google's stock price could suffer from a prolonged battle with the government on the privacy front and with other issues, such as China.
"We think governmental and legal issues will continue to challenge Google, perhaps detracting from its brand equity and operating profitability," Kessler wrote in a research note.