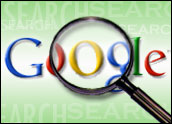 Technology consultancyBearingPoint will launch a search solutions practice — believed to be the first of its kind — and will work withGoogle Enterprise to deliver search solutions that drill deeper into corporate data.
Google has already trained about 100 consultants at MacLean, Va.-based BearingPoint to deploy itsenterprise search appliances. More are training to work within the practice, which will take its place alongside other focus areas at the firm, including CRM,ERP and security.
Targeting Vertical Industries
The company believes the Google-driven search solutions will be especially sought after in certain vertical industries such as pharmaceuticals, banking, brokerage, high-tech and aerospace, BearingPoint Managing Partner Chris Weitz told the E-Commerce Times.
"We've been telling our clients in an advisory role that search is now an application, and if they understand that and start customizing and applying [it] in that way, the mind starts to wander to all the things that can be done," Weitz said. "We believe we'll be quite busy."
The solutions likely won't involve the types of lengthy code-writing projects that earlier database search efforts might have demanded, Weitz said.
"There needs to be some pointing to the data to make it work most effectively," he added. "We think we're uniquely positioned, given the work we do with enterprises already, to provide those services."
For Google, the partnership is the latest element of a concerted, two-year effort to expand its footprint in the corporate world. Google said the business — it does not break out specific revenue amounts — doubled during 2005.
The search company is clearly benefiting from the fact that Google has become synonymous with search on the Web, and that employees are familiar with the look and feel of Google's search platform. It has attacked the market, rolling out numerous search appliance products — including the small-business-aimed Google Mini — and last year opened a program to train partners and technology service providers to deliver its search solutions to enterprises.
Working With Legacy Systems
BearingPoint joined that partner program and increasingly ramped up its training levels before finally striking the partnership with Google. "We saw an opportunity to be an early mover here," Weitz said. "We're making a major commitment to this because we believe there's deep demand here."
In most cases, Google's products can be up and running and returning results in a matter of hours, but the company recognizes that it is going to take more work to get to the point where enterprise searches are as vigorous as the Google.com Web search, Dave Girouard, general manager of Google Enterprise, told the E-Commerce Times.
"There really needs to be a lot of thought to make that happen," he said. "In most cases, that involves a lot of legacy systems. Google just doesn't have the professional services capability to help every enterprise customer get to that point.
"No top-tier consultancy has a search practice, so this is a big deal for the industry as well as for Google," he added.
Many enterprise customers have had their notions of how search should function changed by the Web and by Google.com, Weitz said. This so-called consumerization of enterprise search can happen, but only through careful integration of legacy systems, customized application plug-ins and other on-the-ground assistance, he added.
Training Ramps
In the deal, the financial terms of which were not disclosed, Google gains a high-profile partner and almost instant cache within large enterprises, including the top 100 companies in key fields such as pharmaceuticals and financial services, where enterprises are eager to better leverage the data they already have.
An example of a search deployment may be a pharmaceutical company that lets doctors conduct searches of its database, Weitz said. "They may be able to get to a point where a doctor can do a search by symptom type and find the various treatments."
The practice is slated for a worldwide launch. "It's a fast ramp and a wide ramp," Girouard said. "We know the demand is out there already."
"We want to get to a point where BearingPoint is able to train its own people," he added. "We recognize the rate we're training them at now may not be enough."