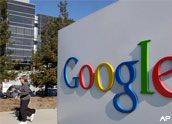 Google stock tumbled Monday following a published report outlining a scenario in which the high-flying Internet company could see as much as half of its market value eroded by increased competition.
Shares fell below the US$350 level for the first time since October, when a strong surge boosted Google to well above US$450 and had analysts rushing to outdo one another with predictions that the stock would bust through the $500 barrier.
Since maxing out at about $475, Google shares have given up 27 percent of their value, erasing some $20 billion in market cap.
Shares were down Monday nearly 5 percent, or $17, to $345.46 in morning trading.
The impetus for the latest sell-off — Google shares also tumbled some 7 percent on Feb. 1 after it missed earnings targets for the first time since going public in mid-2004 — was a story in financial publication Barron's suggesting that a host of potential issues could eat into Google's famously vigorous revenue growth rates.
Barron's outlined a scenario in which Google fell short of analysts' revenue projections by 20 percent, causing a 30 percent miss on profit targets. If that were to spark a sell-off in proportion to the one seen earlier this month, Google shares could lose as much as half of their value.
Competition and Other Issues
Both Yahoo and Microsoft, which launches its own automated search-ad-buying system later this year, could steal away some of Google's growth, Barron's said.
At the same time, click fraud rates may become a more prevalent issue and also curtail revenue expansion. Therefore, Google may find itself distracted and slowed in its efforts to grow by disputes with book publishers, privacy advocates and others over its various services.
More than anything, the story in Barron's questioned whether Google investors' expectations have been driven too high by the company's past performance. Investors and analysts may also be playing catch-up in some ways, since many grossly underestimated what Google stock would do after its much-ballyhooed IPO.
Former Morgan Stanley stock analyst Henry Blodget has pointed out that arguments can be made for Google shares going to $2,000 and for the stock to fall to $100 per share. He does, however, believe that Google is at some risk of losing market value because of its reliance on "one high-margin revenue stream."
"The company has dozens of cool products, but with the exception of AdWords, none of them generate meaningful revenue," Blodget said. Eventually, he added, keyword prices will level off or start to drop as the search market will become increasingly saturated.
Others remain bullish on Google stock, saying the company's planned and existing lineup of products and its positioning on the desktop and in the middle of the online video market will pay dividends eventually in the form of rising revenue.
Barron's is known for targeting the fastest rising starts of Wall Street with its reporting, said search expert and Google book author John Battelle.
"Barron's has a reputation for hitting the darling of the moment in the groin, and this weekend that darling was Google," he told the E-Commerce Times.
High Price, High Stakes
A lower stock price could hamper Google in a number of ways, including limiting its ability to use shares to make strategic acquisitions — though the company still has ample cash if it wishes to make purchases.
It could also hamper hiring efforts. Google is adding engineers and other employees at the rate of about 10 a day, many attracted not only to the chance to work at a cutting-edge company but also to the opportunity for a huge payday when stock options vest and can be sold for many times their face value.
"To combat that, Google would have to pay more cash to employees, which will put more pressure on margins and cash flow," Blodget said.
Barron's also raised the issue of insider trading, noting that Google employees — including its co-founders and CEO — have sold tens of millions of dollars worth of the company's stock in recent months, adding to the available pool of shares, a fact that could hasten a price drop if the value started to slip.
Most of the sales made by CEO Eric Schmidt and by founders Sergey Brin and Larry Page — all of whom will receive just $1 salaries this year — were pre-arranged to occur at set times before the IPO, Google has noted, and are not tied to the current share price.