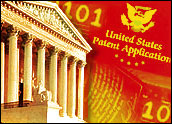 Microsoft said it has been granted its 5,000th U.S. patent, securing protection for a technology that enables multi-player and spectator online gaming and achieving a milestone that underscores a significant shift in strategy for the software giant.
Microsoft said the U.S. Patent and Trademark Office had awarded it patent no. 6,999,083 for technology that will be built into Xbox 360 games that the company said will let people "tune into a video game much as they would a sporting event broadcast."
Shifting Focus
"The 5,000th patent is a marker of the progress we have made in the past few years — building a high-quality, innovative and industry-recognized portfolio," said Brad Smith, senior vice president and general counsel at Microsoft. "Through patents, we are able to license our technologies widely to others in the industry, increasing the availability of our innovations and getting beneficial solutions into the hands of customers."
The sheer size of Microsoft's patent portfolio was seen as less important than the fresh focus on obtaining patents and then putting itself in a position to license the technology it gains protection for to third parties. That represents a seismic shift for a company that, for the first 15 years of its history, was extremely guarded with its technological advances, protecting its source code with zeal.
Microsoft has come to realize the benefits of building technology that it can offer to others, Smith said, noting that the company announced a new focus on intellectual property licensing late in 2003 and has licensed key technology since then, helping to generate non-sales revenue that can be plowed back into research and development.
With 5,000 patents in the U.S. — it holds another 2,000 international patents — Microsoft is still well behind U.S.-leader IBM, which holds some 25,000 such protections in its portfolio.
The value of patents, meanwhile, was underscored in recent days when NTP, a firm that mainly focuses on development of technology, won a US$612.5 million settlement from BlackBerry maker Research In Motion.
Licensed to Bill
The software giant said its patent portfolio is already being put to use by third parties. Among those that have licensed Microsoft technology are Autodesk, Inrix, Motorola, Palm (Nasdaq: PALM), SAP, Sony Ericsson, Sun Microsystems, Symbian and Turbolinux.
While some of those companies are longtime partners of Microsoft, others compete directly with the software company in some areas.
Microsoft cited data from IpIQ that showed it ranks in the top 10 of all companies in terms of recent patent wins and was top-ranked on the basis of the "current impact" of its portfolio. The company said it earns about two patents for every US$1 million invested in R&D, on par with industry averages, and now files about 3,000 patent applications annually, compared with a few hundred each year for much of the 1990s.
Microsoft's strategy is also largely about being able to protect its innovation, Enderle Group Principal Analyst Rob Enderle told the E-Commerce Times.
"Microsoft's patent strategy is largely defensive these days," he said. "It is designed, much like IBM's, to provide something in the nature of assured mutual destruction if another operating firm challenges Microsoft on IP."
Enderle sees little change in the way Microsoft does things in the area of intellectual property.
"Microsoft will continue to aggressively license their patents both to insure the patents are enforceable and to make sure that future standards revolve around technology Microsoft owns," he added. "IBM's process, which makes excellent use of the open source community, is more subtle but designed to accomplish similar goals of creating competitive advantage and protecting against IP assaults."
Networked Gaming Ahead
Microsoft also recognizes that by licensing its technology, especially when it releases it into emerging markets, it is boosting the chances that its approach will become more of an industry standard, giving it a secondary market boost in addition to the immediate income from such a license.
Microsoft has also used its patent portfolio to offer customers peace of mind that they will not face patent infringement suits from third parties, offering indemnity as a way of contrasting the risks associated with some open source platforms that it competes with.
The Xbox technology covered in the patent includes "a system for generating a spectator experience in real time from a game or event, such as highlights, instant replays, and unique views of the action within a game to enhance the experience for spectators rather than players."
It also covers a "portal such as a Web site to access spectator-related services such as schedules and information on multiple games and events as well as the number of spectators and participants in each."
Some have worried that the rush to file for patents and the focus on the number sought or obtained can lead to basic or general technology being awarded protection. For instance, Microsoft caught flack in 2004 for filing for a patent that covers the method of using multiple clicks to open documents or programs on mobile devices, something that would obviously cover myriad uses.
The ability of the patent office to effectively review the thousands of applications coming at it has also been called into question, with the RIM-NTP battle underscoring that issue when the patent office overturned earlier patent decisions when RIM asked for a review.