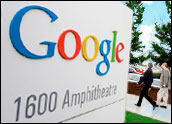 Google is planning to deploy a solarelectricity system that will have a capacity of 1.6megawatts at its famed million square foot headquarters inMountain View, Calif. It will be the largest suchinstallation on a corporate campus in the UnitedStates and one of the largest in the world, the company said.
EI Solutions, a subsidiary of Energy Innovations, will build the system, which will have enoughcapacity to power 1,000 homes in California.Installation of the panels — numbering more than 9,000– will begin in November. They will be placed on theroofs of the four main buildings of the Googleplex and ontwo additional buildings across the street, as well asin a few parking lots, according to a blog posting byRobyn Beavers, corporate environmental programsmanager at Google.
Rapid Payback
While he did not comment on Google's specific investment,Steve Chadima, chief marketing officer for EISolutions, told the E-Commerce Times that typically, a project of this sizeand scope can be expected to pay for itself within five to eight years. "After that, producing electricity is freefor the next 22 years," he noted. The company offers aguarantee on the system for at least 25 years.
Chadima considered state and federal tax credits, as wellas California utility subsidies to companies, in making his calculation.
It is unclear, though, what Google's total savingswould be from this project. The electricity equivalent of a thousandhomes may seem huge — but it will not be enough topower even half of the Googleplex, according toBeavers' blog. The electricity generated from theinstallation will offset approximately 30 percent of Google'speak electricity consumption in those buildings, shewrote.
Industry Growth
Most adopters of thistechnology are not motivated primarily by financialsavings, though, Chadima pointed out. "Firms that adopt this technology tend to beenvironmental leaders in their particular industries,"he said. "They want to make a statement."
However, he believes that within five years, firms will bedriven as much by financial incentives as byenvironmental concerns when deploying the technology.
"It is rapidly moving to a place where firms will bedeploying it in order to remain competitive on costs," he observed.
Google's motives appear to stem both from the desire to do good and the desire to save money — at least down the road.
"The installation of clean and renewable powerrepresents a first step in reducing our environmentalimpact as a company. We believe thatimproving our environmental practices is not only ourresponsibility as a corporate citizen, but goodbusiness planning," Beavers wrote.
"One interesting [aspect of] Google's project is that inaddition to doing the right thing for the environment andcoming up with a reasonable cost of energy, it isalso locking in its energy prices for the next 25 years,"Adam Parker, president ofConservation Services Group,told the E-Commerce Times.