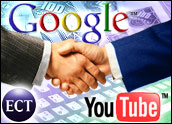 Google's US$1.65 billion purchase of video-sharing siteYouTube — made official late Monday after several days of speculation — could dramatically alter the playing field for competing Internet giants.
The YouTube acquisition is being hailed as a bold thrust that could turn two weaknesses in the Google empire — video distribution and social networking — into strengths that could keep the company growing rapidly for years to come. It could also change the way users connect with video online, as well as how content owners distribute it.
More to Come
"This is the next step in the evolution of the Internet," Google CEO Eric Schmidt said during a conference call announcing the deal late Monday. "It's a natural next step."
Schmidt hinted that there may be much more to come. "This is just one of many investments Google will be making in online video," he said.
As for YouTube, it will continue to run under its own brand, maintain its own headquarters and be overseen by co-founders Chad Hurley and Steve Chen — at least, for now. Google said it would also continue to operate Google Video.
Rumors began to surface late last week that Google was near closing the YouTube deal. The terms came as something of a surprise, however, with Google using $1.65 billion worth of stock to make the buy, rather than dipping into its $10 billion of cash on hand. YouTube's investors, which include several venture capital firms, wanted the acquisition to be stock-based to avoid windfall taxes, Google executives said.
Return of the Dot-Com Dream
The deal is being compared to eBay's purchase of PayPal. At the time, eBay had its own online payment system that was attempting to compete with PayPal, but when it recognized that it would never overtake the dominant player, it moved to acquire it.
Schmidt said YouTube will never replace Google Video, though. Instead, YouTube will continue to operate on its own, and there will be more changes in store for Google's in-house video channel, including tighter integration with its main search engine.
For YouTube's founders and investors, the closing of the deal brought back — at least for a day — the dizzy success that characterized the height of the dot-com boom, when companies that had achieved little more than establishing a strong online brand and attracting Web traffic were sold for millions of dollars.
YouTube sold just 19 months after its founding. One of YouTube's venture backers, Sequoia Capital, received a 42,043 percent return on its investment in the site, according to independent stock analyst Peter Cohan. "Not bad for less than a year's work," he said. Sequoia was also an early Google investor, he noted.
Based on the latest figures available, Google paid about $33 for each current YouTube user, Cohan said. Judging whether that's a lot or a little depends on how quickly Google can start generating profit from the new purchase, he added.
The YouTube price tag represents just 1 percent of Google's $131 billion market cap, Cohan pointed out. "Since the deal is so tiny from Google's perspective, it almost doesn't matter whether it makes money or not," he explained. "Still, I'd like to think Google management is smart enough to figure out how to make some money off the investment."
Staying Alive, Alone
Google's decision to keep YouTube independent may help avoid an uproar from loyal users. Many rushed to message boards in recent days, decrying the deal as a sellout and expressing concern about the overcommercialization of the site, Sterling Market Intelligence analyst Greg Sterling noted.
"Keeping YouTube separate from Google is about preserving the 'integrity' of its user experience and brand," Sterling told the E-Commerce Times. He also pointed out that MySpace has continued to grow rapidly since being purchased by News Corp. last year. "I don't think we'll see YouTube suffer."
What Sterling is interested in watching is not how Google may attempt to monetize the site, but rather, how effective it will be at convincing more major content owners to add their video to the network.
While Google has won praise for its boldness, it is also taking some criticism for making a potentially risky move.
"This marks Google's first significant out of brand acquisition," said Google book author and search engine analyst John Battelle — the company's first "true brand-management challenge."
There could be fallout in the social networking space in the form of more deals. Yahoo has reportedly been in talks to acquire Facebook, a smaller social network that has targeted the sought-after college age demographic, for as much as $1 billion. Those talks may accelerate in the wake of the Google-YouTube deal.